I ask you, who would want to be a celebrity these days? If you aren't being pestered by 'peacenik' goons to endorse their idiotic petitions then you're having the strong-arm put on you by animal rights activists:
"An animal rights group is giving Liverpool's homeless mink coats for Christmas.

Bond girl Barbara Bach and Playboy magazine centrefold Kimberley Hefner were among those who had donated furs.."
So they are taking mink coats from rich people and giving them to poor people. But, hang on, if wearing fur is wrong then surely it is wrong regardless of one's social status, right? Apparently not.
""We cannot bring these animals back – but we can send a message that only people truly struggling to survive have any excuse for wearing fur."

"To show these furs were "recycled", the garments had had white stripes painted on the arms, so the recipients would not be left "open to ridicule for wearing something so cruel"
"Recycled"? That's not quite the word I would use. The word I would use is re-distributed because that is really the point of this whole exercise. The white stripe on the arm is nothing less than a badge of party membership, identifying the bearer as the ideologically sound beneficiary of plantation politics as opposed to those "open to ridicule" for resisting the moral blackmail and proudly displaying their property for all to see.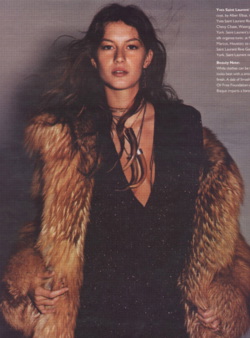 Not ridiculous: Giselle looks good in fur
The old class warriors have found some ingenious ways to hide their rhetoric and 'animal rights' is one of them. Of course, they are not really concerned about the fate of cute, furry animals. No, what really bothers them about fur coats is that they are a conspicuous symbol of wealth and, as such, are only acceptable if being adorned on the bodies of the duly appointed deserving.
And if you have ever wondered why mink and fur is so offensive but leather is unremarkable then may I suggest that it is because 'ridiculing' and strong-arming little old ladies and bulimic supermodels is a very safe way of exercising one's alleged virtues. Taking on a 250lb Hell's Angel is an altogether more risky proposition.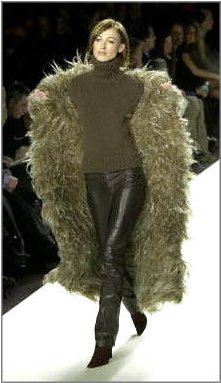 Click me