Earlier this evening I attended a libertarian get-together in the upstairs room of a pub (the Rose and Crown in Colombo Street, London SE1), organised by Libertarian Home, and in particular by leading LH-er Simon Gibbs.
If what you would like would be a convivial evening in a London pub where, if you are not a libertarian you are going to have to explain yourself, whereas if you are you aren't (unless you feel like it), then why not get in touch with Simon Gibbs and invite yourself along to the next one of these things. If my experience this evening was anything to go by, you will be made very welcome.
Here is a photo I took of the other end of the table from where I was: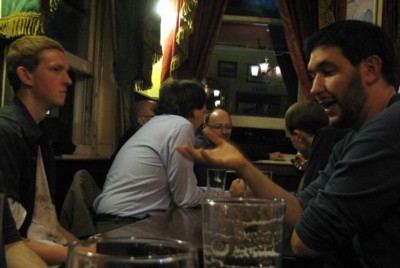 And here's another snap from the same spot, moments later, after I'd asked if I could interrupt everything, and "take some photos":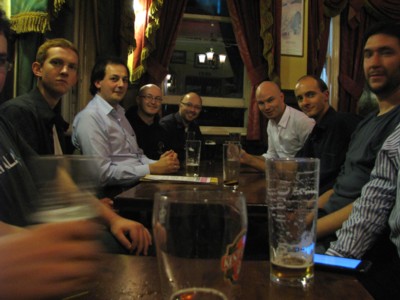 I am surprised what good photos these are, technically, given the light. If you are surprised what bad photos they are, technically, then clearly you don't know my photos.
These photos do not include anything like everyone who was present. They are accurate in suggesting that the gathering was youngish (certainly compared to me), and bright, but inaccurate in suggesting that this was an all male affair. It's just that the ladies present were seated nearer to me, and my lens is not wide-angle enough to have included them.
In particular, missing from that snap are two of the people who, it so happened, I spent a bit of time conversing with. For the first time ever, I got to meet Trooper Thompson in the flesh, whose blog I have long had a liking for. And, I also got to meet "Misanthrope Girl", whose blog I have not properly noticed until now. Trooper Thompson got chased out of the Samizdata commentariat for saying something rude about a gun (I think that was it), approximately a decade ago, which, having finally met the guy, I now think is a shame. Misanthrope Girl would also fit in here very well.
I had to leave earlier than I would have liked, but I am still very glad I went. I heard about this gathering by attending the Liberty League Conference, where Andy Janes (mentioned here recently already because of that Zimbabwean bank note), who also helps organise these evenings, suggested I might like to attend the next one. Perhaps, I thought to myself, and perhaps not. But then Andy gave me a physical copy of the leaflet that he had been handing out at the Occupy London occupations. These guys, I thought, maybe have something about them. (See also this open letter to the London occupiers.) Maybe they do. We shall see.