This evening I attended the E. G. West Memorial Lecture, which was delivered by James Tooley, one of my favourite public intellectuals. The audience was large, and our response was attentive and at the end, enthusiastic.
Tooley started by describing the discoveries of E. G. West concerning the huge contribution to education in nineteenth century Britain made by the private sector, which had pretty much licked the problem of mass literacy and mass numeracy, only for the state then to come crashing in, crowding out the private sector and stealing all of the credit for what the private sector had accomplished.
Tooley then described how he has personally been finding the exact same story unfolding in the Third World right now. There too, the private sector is running state education ragged.
In the course of his lecture, Tooley presented this complete and comprehensive list of exactly what the state should be contributing to the funding, regulation and provision of education: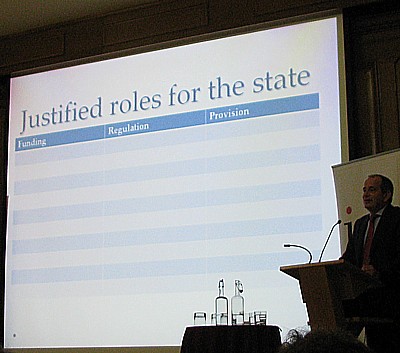 As often happens with my photos, people who care about such things will quibble about technical adequacy and artistic impression. But, I trust you get Tooley's message.
I realised while listening to Tooley talk that I have been somewhat losing track of what he's been up to lately. So when I got home, I ordered a copy of his book, The Beautiful Tree, which he mentioned in the course of his lecture, and in which I hope to learn many more of the details of what he's been finding out about one of the great success stories of the world now.
During the Q&A after the lecture, Tooley was asked what Britain's politicians should be doing about it all. What reforms ought they to be trying to contrive? Tooley said he expected very little from our politicians, predicting instead that if changes along the lines he would like do come, it will be because of foreign educational enterprises opening branches here, offering a cheap and effective alternative to state education at very little extra cost. That, said Tooley, will be when the good educational stuff starts happening in Britain, again, if it ever does.
LATER: A few more pictures here.