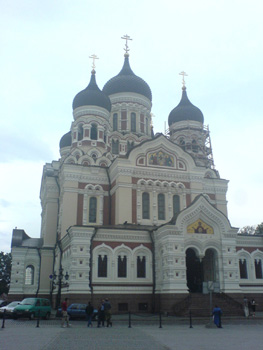 I think that this building (the Alexander Nevsky Orthodox Cathedral in Tallinn) is every bit as assertively a statement that the Russians are in charge as is the Palace of Culture in Warsaw I wrote about earlier this year. It comes from a different Russian era (the Cathedral is a Czarist structure, completed in 1900), but I think the motives for building the two structures were not too different . Certainly the Cathedral is in every bit as prominent a location as the Palace of Culture – it is on the top of the Toompea hill in Tallin's Old Town, directly opposite Tallin castle (now the Estonian national parliament). Certainly, also, it is every but as architecturally out of character from the historical city, which in style is a typical Baltic Hanseatic League city, although the people of the city are clearly very proud of the medieval town hall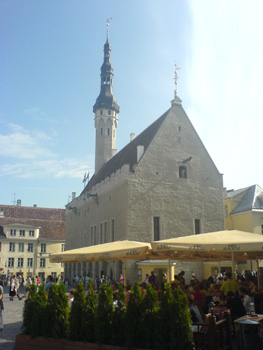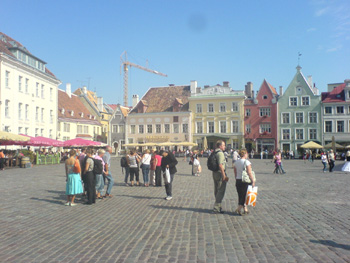 It is only six years since I was last in Tallinn, but the city certainly seems to have come a long way since then. At that point the Old Town was beautiful, but the rest of the city felt grimy when I left it. No longer. It's not a terribly large city (half a million?) and it is not as frenetic as some larger cities, but it has the air of a place becoming, well, comfortable. Modern office buildings going up. Suburban tracts of nice, large houses being built on the waterfront to the west of town. That kind of thing. There are lots of Soviet housing estates between the old centre and the nice suburbs, but in truth I have seen worse in London. And Paris. And Amsterdam. It is difficult to believe that this was part of the Soviet Union only fifteen years ago. But it was.
And it was certainly a nice touch to be able to talk to friends in Australia using a software product that was developed here. The computer markets of China are full of people attempting to sell you cheap Skype handsets. However, Tallinn gave us Skype itself. That is worth more.