One of the news headlines today was about the discovery of mass grave in Mahawil area in Iraq. So far remains of more than 3,000 people have been found but Iraqis fear up to 15,000 people reported missing in the area may have been buried there during Saddam's government crackdown on Shi'ites when they launched an uprising in 1991. Reuters reports:
Many families stood silently behind a ring of barbed wire coils separating them from the excavation in an attempt to preserve the site but others walked through the piles.

As an earthmover scraped heaps of rich brown earth from the site, bones protruded from the dirt. Once extricated, skulls and what look like the bones from the rest of the bodies were heaped into crumbled piles or stuffed into plastic bags. Clothing hung from the bones. Some skulls were cracked.

Since Saddam's fall in the U.S.-led war on Iraq, mass graves have been unearthed in Najaf, Basra, Babylon and other areas and are still being found as Iraqis feel free to recount tales of arrests, torture and killings once too risky to tell.
To all those protesters whose righteous hatred for the United States and Britain was declared out of self-proclaimed desire for peace. Is this the kind of 'peace' you wanted to preserve when you cried "not in my name"?
Araya Hussein carried the remains of her husband in a bag away from the site weeping.
He went missing in 1991 when we had 10 children. I thought he was a prisoner and would one day come home. I never imagined I would be carrying his bones home.
Explain to this woman why your righteous wrath was directed at Bush and Blair but not at Saddam. Explain how according to your warped view of the world Saddam has 'the right' to rule Iraq and kill thousands without any fear of retribution. Explain how you can end up supporting an evil and oppressive regime and distance yourself from the long awaited liberation.
Damn you and your coddled, self-centered and twisted minds. You have caused enough misery and suffering by your irrational and irresponsible opposition to anything that might bring freedom to those parts of the world where free expression is an unknown concept. Perhaps you should change your slogans and cry for 'peace of mind', your minds that is, in the face of the gruesome truth emerging from Iraq.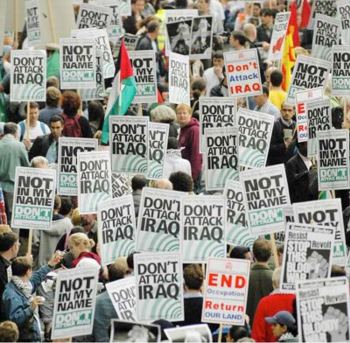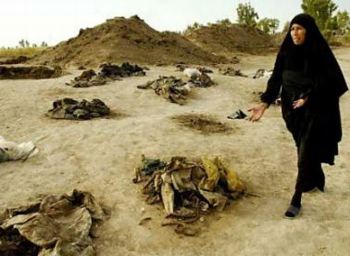 The mass murders in Iraq have been stopped… but not in your name