Some MapPorn: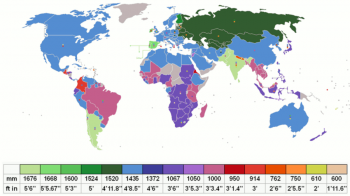 This is a map of the world's different railway gauges.
Fun fact, if fact it be. In the schmoozing after a talk I attended earlier in the week, someone told me that Britain's four foot eight-and-a-half inch gauge is the result of how far apart horse-drawn carriages had their wheels, in the pre-railways north-east of England, that being where the railways in Britain got started. The point being that such carriages also had a standard gauge. Their wheels dug ruts in the un-tarred roads of those times, so if your carriage had a different "gauge", it couldn't travel in those ruts, and thus couldn't travel at all. These ruts were rails before rails. And that regular distance apart transferred itself to the newly emerging railways.
I haven't checked this. I didn't want to bother with any facts that might destroy my story, until I'd told my story. But as of now: feel free to destroy away.
Another question: Will the railway gauges of the world ever change? By which I mean get somewhat less numerous. Say: As a result of some sort of new intercontinental high speed rail system being developed. I seem to recall reading that in Spain, the new high speed trains are the same gauge as those in France (and thus also Britain) and different from the regular Spanish gauge. Or would a some futuristic global high speed system will just add yet another standard? (Will Brunel's preferred seven foot gauge for the old Great Western line rise from the dead and conquer the world? Guess: No.)
Cue the commentariat who will, I predict, change the subject to the QWERTY keyboard, and then disagree about how that happened, and about how keyboards will be in two hundred years time.