Today I was at Euston tube station, and found myself admiring the antique signage on one of the platforms, the Northern Line I think, done with painted tiles, rather than with a printing press or with electronic wizardry as is the way such things are done now. Way Out signs are not what once they were. So out came my camera.
At this point I realised that there was some weekend, Brexit-related fun to be had, by including also part of the bit where it said, in much bigger letters, "EUSTON":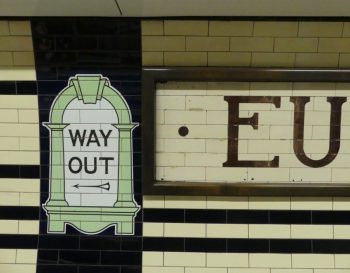 If only the way out of the EU was turning out to be as simple as exiting from Euston tube station.