I give you Kaitlin Bennett from Ohio, as reported by BBC News: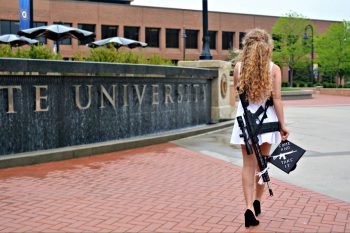 As a woman, I refuse to be a victim & the second amendment ensures that I don't have to be.
.@KentState puts up fliers in dorms w/ the stat that 1 in 4 women will be sexually assaulted in college, but denies women the right to protect themselves with their firearm. In 2016 KSU reported 3x as many rapes on campus than 2015. Stop letting women be victims. #CampusCarryNow
The 2nd amendment isn't about hunting deer. It's about being able to protect yourself from an out of control, tyrannical government.