Is The Electric Vehicle Revolution Real? That is the question that Nico Metten asks, over at Libertarian Home. Metten's answer, surprise surprise: no. His English could do with a little cleaning up by a native of these islands, but that quibble aside, and on the basis of far less technical knowledge than him, I share his doubts, although in my case the proper word would probably be: suspicions. I suspect everything tinged with Green to be … suspect.
Ken Ferguson, commenting at Libertarian Home on the matter of electric vehicles, argues, in contrast, that this "revolution" is real, and is driven by the need to cut down on air pollution. He supplies this link.
And indeed, you do now see electric vehicles all over the place. Here is one I photoed a while back, just a walk away from where I live, getting an electro-refill from a special roadside charger: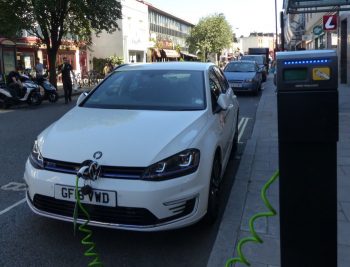 But are electric engines n vehicles the only way to cut down on harmful vehicle engine emissions, or could regular or not-so-regular petrol engines be part of similar reductions, perhaps by having something bolted onto the end of them to take care of those emissions? Or, could vehicle emissions be somehow cleaned up by other means, with devices not attached directly to any vehicles? Do such things already happen? And: How harmful are those emissions, actually? (See above: "suspicions".)
Since concocting the bulk of this posting, I notice that another Libertarian Home commenter, Jordan Lee, echoes many of my doubts, and one in particular of my questions:
Is there a way to make fuel burning cars more efficient in cutting emissions?
Cars are now being sold on this exact basis. But how far will they get in doing this, and how efficiently will such cars continue doing their number one job, of being cars?
The Samizdata commentariat contains some notably well-informed techies. I'll be interested to read whatever anyone may feel inclined to say about this.