Fox News breached impartiality rules, says state censor Ofcom.
Ofcom's ruling concluded there was "no reflection of the views of the UK government or any of the authorities or people criticised" and the presenter "did not challenge the views of his contributors; instead, he reinforced their views."
Leaving aside the question of whether the state has a role in telling broadcasters what news they can broadcast (it does not), let me take a quick look at the front page of the BBC News website right now.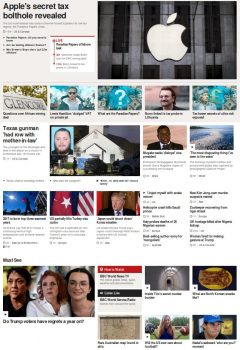 Here is my translation of the pertinent headlines (stories that are probably neutral I have marked in italics, and non-political stories I have omitted):
Big companies like Apple should pay more tax.
Tax avoidance is wrong.
Lewis Hamilton should pay more tax.
Bono should pay more tax.
Rich people should pay more tax.
The state should control who has guns.
Mugabe wants his wife to take over from him.
Plastic is bad and greedy people are destroying the planet with it because they are greedy.
Global warming is still really real and only states working with the UN can save us.
Trump is being mean to Turkish people.
Trump wants Japan to help defend against North Korea.
People were kidnapped in Nigeria.
A writer used politically incorrect language.
A woman who was rude to Trump got fired.
People who voted for Trump probably regret it.
No sign of anything other than a completely neutral world-view there. None at all.