The BBC has provided a reminder of the distant past, the early 1970s, when Ted Heath was Prime Minister and Mrs Thatcher was the Education Secretary. Despite a long feud between them after Mrs Thatcher's rise to lead their party, Mrs Thatcher reportedly thought highly of Mr Heath.
'…Baroness Thatcher eventually called her Tory predecessor "one of Britain's greatest prime ministers"….'
Let's see what the BBC has to say about that time:
Margaret Thatcher was Education Secretary in Mr Heath's cabinet between 1970 and 1974. Although never close, they shared a commitment to free market policies.
As if. It is true that Mr Heath privatised Thomas Cook, a travel agency (it was nationalised during World War 2 after the German occupation of France as it had become French-owned by then), and some pubs in Carlisle. Yes, that's right, the British Government had nationalised pubs around Carlisle during WW1, to ensure that munitions workers weren't too drunk, and with the Kaiser safely in the past, the time was ripe for final privatisation of the remaining pubs came in 1971.
Perhaps every town should have a nationalised pub as a reminder of the ordeal of the drinkers of Carlisle, which effectively lasted a drinker's lifetime. At a relatively small cost, we could have a live reminder of nationalisation in every town.
From 1972, the government began to change course.
A strike by the miners threatened coal supplies to power stations.
War in the Middle East in 1973 led to a sharp rise in oil prices, feeding inflation.
Inflation, that mysterious dragon that is scared off by high interest rates but which feeds on high oil prices, so the collapse of Bretton Woods and Nixon's repudiation of the dollar/gold link had nothing to do with inflation, nor did wild printing of money.
Here is a pub price list from the time of decimalisation, 30th November 1970: A pint of beer in the same pub now, even with gentrification, costs not 12 new pence but something in the region of £3.60p, a 30-fold price increase in nominal terms.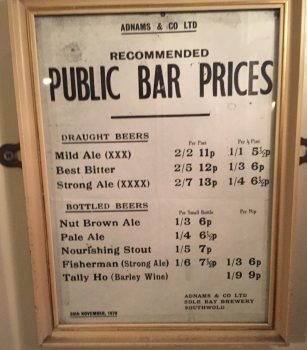 However, what did Mr Heath, one-time friend of Deng and Saddam, decide to do in the face of inflation, and demands for pay rises? Reminder, a great many people worked in nationalised industries, and their pay rates were ultimately political decisions. Furthermore, going on strike (i.e. refusing to work) was often seen as the way to muscle a pay rise out of the government, rather than a route to bankruptcy.
Heath, memories of wartime comradeship still fresh, did not want a confrontation with workers, nor, having grown up during the depression of the 1930s, was he willing to see unemployment rise in order to curb inflation.
Instead, he re-introduced government control of prices and pay.
So what happens if you control prices and pay? We are not told. Is it too obvious to need to be said, or are there still people who deny that price controls can lead to distortions? Why not look at Venezuela for a grim current example? (it's OK, he's doing it to curb inflation).
And this 'trade-off' between unemployment and inflation? That other mysterious relationship that is simply assumed to exist? How about seeing if a market can clear without distortions?
And note, there was no dispute at this point between Mr Heath and Mrs Thatcher over Europe, Mrs Thatcher was completely for membership of the European Economic Community.
In some ways, we have come a long way from the absurdity of the political consensus of the 1970s, yet the State still looms large as does the passing off of old economic fallacies as realities.
And what is Mrs Thatcher reported to have said of that time?
"In the years since, he and I have not always agreed on every political thing, but I was, and I'm proud to have been, a member of his government …"
Quite how Mrs Thatcher got her reputation is a mystery to me, but not how Roy Orbison put it.