There has been much speculation the government will simply ignore the LEAVE result of the Brexit vote and not invoke Article 50 to start the clock running to leave the EU.
So why do I not think that will happen?
The one word answer:
UKIP
The slightly longer answer:
Look how many Tory (and indeed Labour) MPs supported REMAIN, but their constituencies voted for LEAVE: i.e. most of England.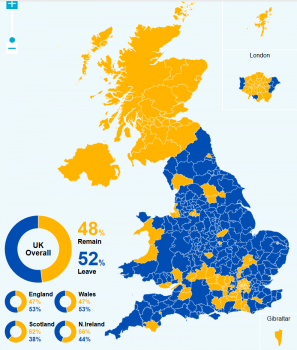 Now imagine come the next election, and we are still in the EU because the political establishment basically said "fuck you, we are just going to ignore the vote to LEAVE".
Does anyone seriously think UKIP will end that election with the one MP it currently has? In my opinion they could quite literally wipe out the Tories as a meaningful political party a la what happened to the Liberal Party by 1935 (and UKIP would probably take a nice big bite out of Labour in Northern England). I would rather that not happen, but if that is what it takes…
That is why I think Brexit will indeed happen. Political self preservation. But I hope Farage has bodyguards.