Senlac Hill, the figurative venue for the re-match.
And as before, the huscarls and fyrd shouted the battle cry: "Out! Out! Out!"
The enemy were not my Norman ancestors this time, but rather David Cameron in the role of William the Bastard, with his knights arranged around him with names like Jean-Claude Juncker, J.P. Morgan, Barack Obama, Tony Blair, and oh so many other members of the global establishment who disdainfully ordained that the order of things must not be upset, and snouts must be left undisturbed in the troughs to which they have become accustomed.
But this time… oh this time… it was not the embodiment of England who took an arrow in the eye but rather Dave the Bastard. This time just enough of the fyrd refused to take the bait, declining to rush forward off the hill leaving the huscarls exposed. This time they stood fast behind a forest of spears and a wall of shields, against which the forces of Dave the Bastard charged and died. We shall not be moved!
And in this glorious re-match, who has been cast in the role of King Harold Godwinson? It is hard to say, for he is wearing a helmet, but I have a sneaking suspicion when he takes it off, he will have very blonde tousled hair.
Britain has just angrily shrieked two words and they are: FUCK YOU!
I am a very happy man today.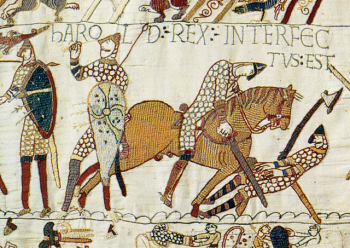 Dave Rex Interfectus Est?
UPDATE: YES!!!! Dave Rex Interfectus Est!
That moon-faced toad David Cameron did indeed take the arrow in the eye he so richly deserved and has resigned! W00t! 😈