Of all the dire threats, this from the French Economy Minister (there is one? an economy I mean) is the most chilling, since it reminds me of how far we have fallen.
Leaving the European Union would make the UK as significant as Guernsey, France's economy minister has said
So the rate of income tax would be a standard 20% and there would be no VAT and no Capital Gains or Inheritance Tax? That's some good deal for being insignificant.
Of course, this 20% tax rate is an anomaly in Guernsey, it was introduced as 4 shillings in the pound (20 shillings per pound/livre) in WW2. Let's look at some of the measures the Nazis introduced in the occupied Channel Islands.
On arrival in the islands, the Germans issued proclamations imposing new laws on the resident islanders. As time progressed, additional laws restricting rights were posted and had to be obeyed. The restrictions included:

Confiscation of:

weapons (1940)
boats (1940)
radios (1940) then (1942)
motor vehicles (forced sale) (1940)
cameras (1942)
fuel
houses
furniture

Restrictions on:

fishing (1940)
drinking spirits (1940)
exporting goods (1940)
changing prices of goods (1940)
patriotic songs and signs (1940)
more than three people meeting together (1940)
access to beaches
fuel
freedom of speech
access to medicines
some clubs and associations.

Changes to:

drive on right of roads (1941)
rations (1943, 44 & 45)
clocks to German time (1940)

Forced to accept:

curfew (1940)
exchange rate to Reichsmarks (1940)
census (1940)
identity cards (1941)
growing vegetables
food rationing (1940)
increase in income tax to 4/- (1940)
lodgers billeted
German language in schools
Cycling in single file (1941)
work from Germans
censorship
Well we have a long way to fall before that state of affairs, and cycling in double file is by no means discouraged bar some circumstances by the Highway Code, presumably in the hope of causing more accidents.
So let freedom reign, even though the sky (and tax rates) may fall.
And today, I couldn't help noticing the timing of these sequential adverts on a hoarding in Newcastle.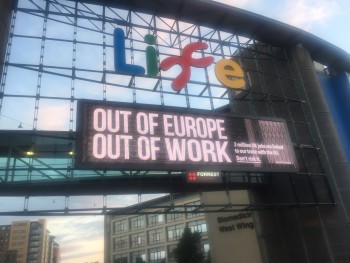 and next this: