Let's do some word association.
McCarthyism: Senator Joseph McCarthy, witch-hunts, reds under the bed, blacklists, Hollywood, the House Un-American Activities Committee.
Or to put it another way: it was a Jolly Bad Thing. Hey, the term "McCarthyism" still gets used to this day, so it must be true.
Not so fast. We can dismiss a few of those things straight away. McCarthy had nothing to do with either Hollywood or blacklists. His focus was Soviet sympathisers in the Federal Government, initially the State Department (the US Foreign Office) and, later on, the Army Signals Corps. And as a Senator he could have had nothing to do with a House committee, un-American or otherwise.
But what about the rest? Is it true? Did he hound entirely innocent people or was he on to something? The vast majority of books and articles written on the subject claim that he made it all up. M. Stanton Evans begs to differ. In Blacklisted by History: the Untold Story of Senator Joseph McCarthy and his Fight Against America's Enemies he argues that in the vast majority of cases those accused by McCarthy of being communists were exactly that. Some were out and out spies. Some were agents of influence. Some were happy to help in the running of communist front groups. But the argument still stands: they were aiding a power that was hostile to the United States.
Evans comes to this judgement mainly by leafing through the files that have become available. These include the FBI files and what have become known as the Venona transcripts: Soviet messages de-crypted by the US military in the 1940s.
It is important to realise that these weren't just spy games. Communist activity had a real impact. In the early 1940s, for instance, John Stewart Service, the State Department's man in China produced a string of reports. In them he praised Mao's Communists to the hilt claiming that they were democrats and successfully fighting the Japanese while condemning Chiang Kai Shek's Kuomintang (KMT) for being incompetent, corrupt and uninterested in prosecuting the war. This was a travesty of the truth. Reports like this led to the KMT being starved of money and weapons which may well have tipped the balance in the Civil War leading, in turn, to the misery that was subsequently inflicted on the people of mainland China.
So, if he was right why has he been condemned and why does he continue to be condemned by history? Some of it appears to have been McCarthy's own fault. He puffed up his war record. He over-stated his case. He bullied witnesses. He made the odd mistake. He criticised revered war heroes. Some if it was snobbery. McCarthy was from the wrong side of the tracks. There was no Ivy League education for him. He left school early but through hard work still managed to become a lawyer. He was also a Catholic. But most of it was because he was up against the combined forces of the communists and the establishment.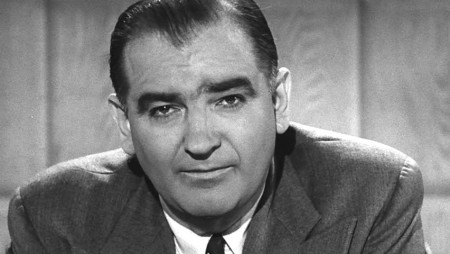 The Tydings Committee – a special sub-committee of the Senate Foreign Relations Committee – was established to get to the bottom of his initial 1950 claim that there were 57 communist agents working in the State Department. It did no such thing. In fact it didn't even try.
According to Evans it was a cover up from start to finish. There was almost no attempt to get at the facts. Often a denial from the accused was sufficient. At one point they even asked the leader of the US Communist Party if certain people were members. He had to be prompted to say "no". Most of the hostile questioning was not aimed at the accused – who were often evasive – but McCarthy himself. An inordinate amount of time was given over to attempting to prove that McCarthy had initially claimed a figure of 205 rather than 57 – as if it mattered. There was a definite suggestion that State Department personnel files had been tampered with. It was no great surprise when the official report concluded that McCarthy had made it all up.
You would have thought that even Democrats might have been interested in whether the State Department was full of communist moles. But no. Were they communist sympathisers themselves, or attempting to save the reputation of their side (in Truman, they had their man in the Whitehouse)? Probably the latter but you do wonder.
The Tydings Committee established a pattern for the McCarthy era. McCarthy would make a claim and then the establishment would investigate McCarthy while obstructing the investigation of his claims at every turn.
One of the surprising things for me is how poor Congress was (and probably still is) at holding the Executive to account. More than once the Executive showed utter contempt for Congress's attempts to get at the truth. This included, as mentioned earlier, tampering with files but also making witnesses unavailable. But this never led to any consequences. Whenever, a confrontation got serious, Congress backed down.
There is a tendency amongst libertarians to imagine that there was some golden age when politicians were decent and honest. If there was, early 1950s America wasn't it.
If there is one organisation that does come out well out of this it is the FBI. They were onto communist subversion at a very early stage and were responsible for producing most of the evidence that McCarthy later used. This may explain the extraordinary lengths communists and others have gone to over the years to tarnish the reputation of J. Edgar Hoover.
You'd would have thought that with the election in 1952 of Eisenhower as President things would have been different. After all why should a Republican Cold Warrior have any qualms about removing communists from the government especially when he had no need to defend the decisions and practices of a previous administration? Sadly, as it turned out, Eisenhower was every bit as bad as Truman. With Republicans divided between McCarthy and Eisenhower and the Democrats an anti-McCarthy bloc, the Senate voted to censure McCarthy. That was the end of the McCarthy era. He died a few years later, ignored, if not forgotten. He was 48.
Blacklisted by History is an extraordinary achievement but it is not without its faults. One gripe is that it is not particularly well-written – frequently I'd find that I had read several paragraphs without really understanding what was going on. I it is also not particularly well-organised. The same topics seem to crop up again and again often many hundreds of pages apart. And it is also worth bearing in mind that this is not a biography: it is an examination of McCarthy's claims. McCarthy, himself, doesn't really appear until 200 pages in and we get very little sense about what he was like. But it makes its case: Joseph McCarthy was a hero.