Ever since the universe obliged me by inventing digital photography, I have been taking a lot of photos (only click on that if you really want to see some of my photos and are willing to wait). One of the sorts of photos that I like to take a lot of is photos of other people taking photos. I particularly like it when they are holding something in front of their face, like a camera or a coat or a bag, so that I can then stick my photo of them photoing up on the internet without them being very recognisable, by which I mean face-recognition-software-recognisable.
And earlier this month, I took this photo, of a lady on Westminster Bridge, taking a photo of another lady. Well, that's what I at first thought, but later I realised that she was almost certainly videoing the other lady. That's because in addition to holding up her iPhone (over most of her face) she was also holding up a hand-made teleprompter, covered in text: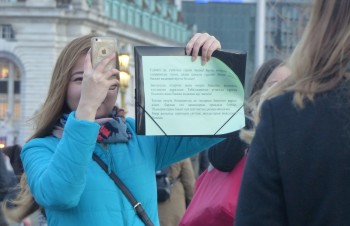 I did a few months of schoolboy Russian about half a century ago, so I am pretty sure that this is Russian. But what does it say?
Here it is closer-up and more easily readable, with the blueness removed: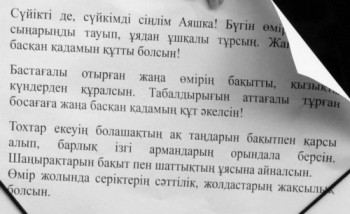 So, is this harmless tourist guidance? Viciously mendacious Putinite propaganda, full of nonsensical lies about the Ukraine? Some kind of personal message? I have enjoyed wondering, but now I would really like to know.
I am sure that at least one of our most knowledgeable and obliging commentariat can knowledgeably oblige with the answer.