I and my libertarian friends all love Uber. By that I don't just mean that we love using Uber, the service, although I am sure that just like many others, we do. I mean that we love talking about Uber, as a libertarian issue, as an issue that nicely illustrates what libertarianism is all about and the sorts of things that libertarians believe in. In particular, we believe in: technological innovation and the freedom to do it, for the benefit of all, except those in the immediate vicinity of it and overtaken by it, because they make a living from the technology that is being overtaken.
Example. A couple of weeks ago I attended a talk about Art, which suggested that Art is not abundant enough and not benefiting enough people. A big part of the response from the floor during the Q&A afterwards was: It depends what you mean by Art. By most reasonable definitions, there has never been more Art. Prominent London libertarian Professor Tim Evans compared the attitude of the speaker to that of a London Black Cab driver fretting about how to keep London Black Cabs going, what with so many Londoners now preferring Uber Cabs. My point is not that this was a fair comparison, although I thought it was. My point is that we libertarians love Uber so much that we insert Uber into conversations about quite other things. Uber is something that we just love to talk about. And it's not just Tim Evans, and me, and Johnathan Pearce, and Rob Fisher and Perry de Havilland who love to write and talk about Uber. Based on the conversations I've been having with fellow libertarians, it's pretty much all of us. This is an issue which unites all of us, and which divides our opponents. After all, even anti-libertarians need a taxi ride from time to time, and they prefer it to be cheap and obtainable rather than expensive and unpurchasable.
At the very moment I first typed in the above paragraph, an email arrived from the IEA, telling me about how the IEA's boss, Mark Littlewood, has been mixing it with Black Cabbies on the radio.
As for me, I found my interest renewed in the Uber battle when I encountered this Black Cab, last August, in Victoria Street, just up the road from the Houses of Parliament: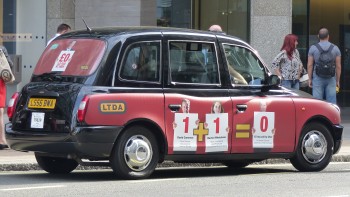 Why was this cab of interest to me? Well, let's take a close look at the rather intriguing politics lesson on the side of this Black Cab: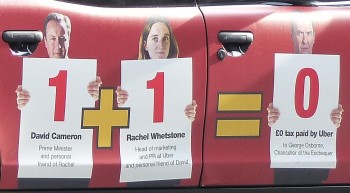 As you can see from this posting at my personal blog, way back in August when I took those photos, I had in mind to put something here way back, provoked by them. But the delay didn't matter. This issue is not going away any time soon.
The taxi driver whose taxi sported this advert clearly thought that this was an advert about how wicked Uber is. Uber lobbies. Uber puts Prime Ministerial friends on its payroll. Bad Uber. But to me, this read more like an advert in favour of David Cameron. Cameron wants Uber to flourish in London. Does he now? I did not know this. Good for Cameron. And bad for Boris Johnson, Mayor of London, who does not.
This is also an advert for Uber itself. Uber is cheaper … because it pays no tax! Come again … Uber is cheaper, you say? Hm, interesting. I must give it a go.
The LTDA, who, as you can see from the top picture, is responsible for the above advert, thinks that Uber is systematically breaking the law. What that tells me is not that Uber is bad, but that the law, insofar as it now impinges upon Uber, is an ass.
To me, the really interesting thing about Uber as an issue is how it makes a nonsense of the old Public Choice dilemma in pro-free market lobbying and opinion-mongering. I'm talking about the fact, which it does often tend to be, that when there is a lurch, proposed or actual, towards a free market, unleashed either by politics or by technology or by a mixture of the two, the people who suffer or who look like they will soon suffer are highly concentrated and easily organised and know exactly who they are. However, those who will benefit from the new dispensation are dispersed and hard to organise and tend not to know who they are. Consequently you get this imbalance in the political argument, in favour of the status quo, even if, in the longer run, many more people would benefit from the new dispensation than the old, and would like it very much, in the event that that ever discovered that they were benefiting from it.
Uber might have been invented to solve the above problem.
Thought: maybe there is a sense in which it was invented to solve this problem. Discuss.
The Adam Smith Institute was definitely invented to solve this problem. From the moment they started out in the late 1970s, they have been devising policies which unite and energise supporters but which divide and confuse opponents. So, although the ASI did not invent Uber, they have been supporting it since way back, exactly as if they had invented it.
For you see, Uber, by its nature, makes it very clear to its beneficiaries that they are indeed benefitting. If you are an Uber driver, you know it. If you are even an occasional Uber customer, again, you know it. And okay, the life of an Uber customer is not totally transformed for the better (in the way that the life of many Black Cabbies is now being totally transformed for the worse), but it is definitely improved. Ten quid here, twenty quid there. If you are a regular buzzer about in a place like London, it soon adds up, as does the time you save and the anxiety you are spared if you frequent somewhat out-of-the-way spots where Black Cabs are not so easy to come by.
But best of all, all of these beneficiaries, both drivers and customers, are, by their nature, organisable, by Uber itself. Uber knows who all its potential supporters are. I particularly enjoyed watching a Black Cab spokesman fulminating on the television, a month or two ago now, about how the fiendish Uber had told all its drivers and customers to sign an online petition! It was like Uber was cheating by doing this, and I'm sure that the Black Cab man did in some deep sense feel exactly this. The guy made it sound like you wouldn't be allowed to be part of Uber ever again, either as a driver or as a customer, if you didn't sign the petition, which of course was not so. But the mere fact that Uber knows who all these people are and can merely alert them all to the existence of a political push to squash Uber and ask them all to sign the petition to not squash Uber, and to do all that with extreme ease, totally changes the politics of it all.
Take that radio show that IEA boss Mark Littlewood was on. The radio people had no trouble whistling up Black Cabbies to put the Black Cabbie case. The Black Cabbies all know each other and have done for decades. But neither did they have any trouble contacting people to talk up Uber, the way Littlewood did, even though Uber has only been in existence for the blink of an eye.
Which is why so many of London's local politicians of a free market persuasion are now so eager to join in this ruckus, on the side of Uber. Another circumstance which got me noticing Uber recently was a posting at Guido, about how some Tory Westminster Councillors had sent a letter to Transport for London telling them to lay off Uber. If you want a level regulatory playing field, said these Tories, don't regulate Uber, deregulate the Black Cabs.
It particularly got my attention that one of the politicians who signed this letter was JP Floru, a man with whom I am personally acquainted. Here is an SQOTD I posted here, taken from his excellent book Heavens on Earth. Not long ago JP Floru gave a talk at Libertarian Home, about how we libertarians should do more party politics than we are in the habit of doing, and how we should concentrate on issues that reach out beyond the core faithful. This talk, as you can imagine, got a somewhat mixed reception from the core faithful audience who attended it, but my point is that JP Floru obviously reckons Uber to be just the sort of issue that practical, hard-nosed libertarian-inclined but serious politicians such as he is trying so hard to be, and such as he thinks more of us should also try to be, ought to join in and get political about.
I sent JP Floru a congratulatory email about his Uber-lobbying, and he replied by emailing me this link to a piece he recently wrote for Conservative Home on the issue. He clearly thinks that this is an issue which it will benefit him to be seen shouting about.
The ultimate proof of the attractiveness of the Uber issue to mainstream political people (and hence also to us libertarians) is that, as my pictures above nicely illustrate, the Prime Minister has joined in on this, on the side of Uber. Is Prime Minister Cameron pro the free market? At all? Argument rages about that, and this is exactly the kind of argument that he is eager not to see settled. He stands above and beyond all mere ideological disputes. He is a man of the extreme centre, unlike the Corbynite rabble opposite. And yet he, Mister Non-Ideology, chooses to back Uber against the Black Cabs.
In other words, we libertarians are onto a winner with this. Even if, in London, in the short run, perhaps because a Labourite wins the next election for Mayor of London and chooses to oppose Uber a whole lot more fiercely even than current Mayor Johnson does, this is and will remain a very good argument for us.
Actually, I think that whoever the Labour candidate is for Mayor of London, he or she will probably not do much to stop Uber in London, which is another way of making my same point.