Party politics in Britain now is conferring retrospective significance upon a generation of – and this is putting it very mildly – bad mannered behaviour by lefties.
Here is an example: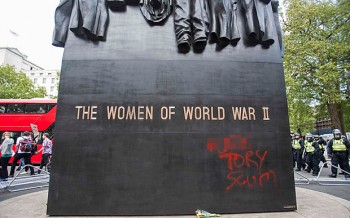 This picture was used by London Mayor Boris Johnson to illustrate an article about what is now happening to the Labour Party. It is a cleaned-up snap of what some lefty moral projectionist did to a war memorial in May of this year, during an anti-austerity demo.
The Boris Johnson article was posted last weekend at the Daily Telegraph website, to which links from here are not encouraged. Its title is: "Labour directs its impotent fury at all but those responsible – itself". It is about how, because they dare not now discuss their own self-inflicted failures and perplexities accurately and clearly, Labourites instead now prefer to blame others for these things.
At the time it happened, the above-illustrated piece of moral decrepitude was not hugely significant. Some people now behave like this. Why? Insert preferred causal theory. Mine might have involved the expansion of the universities and of the welfare system, and perhaps also a reflection on what spraycans have done to our world. Religious people might have murmured something about the decline of religion as a moral force in our society. Those who think that history is now taught badly in Britain's schools might have talked about that. Most feminists, torn between denouncing what is on several levels a horrible anti-woman insult or, on the other hand, denouncing a fellow lefty moral projectionist for perpetrating it, presumably remained mute.
But that picture now interests me more than it did in May, or would have had I seen it then, just as it recently interested Boris Johnson. Maybe I did see it back in May, but now, I am doing something else. I am noticing it. I even did some googling and found an uncensored version of what had been done. You pretty much knew already what the Boris version of this piece of rudeness was concealing, but I want now to spell it out: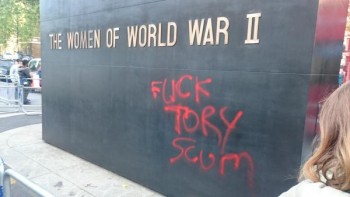 I found this here. This did not take me long.

The reason I show you this insult in all its lack of glory is, first, to draw attention to what a truly nasty public statement this was and is, combining as it does thoughtlessness, ignorance, and an utter indifference to the opinions and feelings of everyone else in the world, and in particular for the opinions and feelings of the sort of English people whose votes decide the outcomes of English political elections.
But why does this sort of rudeness matter now, more than it did when it was perpetrated? Because I now assume, and as Boris Johnson also assumes, that the person who did this is probably now a member of the Labour Party, and has just voted for the Labour Party's new leader. That may not be a true fact. But if false, it is still accurate.
More thoughtless Labour nastiness is reported in this recent Guido posting. Guido is now noticing this sort of stuff every day. I remember noticing it a long time ago, as have many others of course. The difference is that now this is not just nastiness, it is Labour nastiness.
The internet now has getting on for two decades of this sort of stuff to dig up. And because of what middle-of-the-road voters are going to make of all this when next they get the chance to vote about it, I honestly think that the Labour Party as we have known it for the last century or so may be about to vanish. Like the Liberal Party it will stagger onwards, zombie-like. It won't completely disappear. Nice but deluded individual Labour MPs will cling on to anomalous majorities for several decades, just as deluded Liberal MPs did. There may even be a "Labour revival", in about 2045. But the Labour Party as we have known it will, I now surmise, cease to exist.
The fear, of course, is that the Nasty Left, having been handed the Labour Party on a plate by Ed Miliband, will use it to ride to power, following something like a financial melt-down. If only because this might now happen, and that the mere possibility of this happening would itself do serious damage to my country, I would have preferred the Nasty Left to have remained in the party political wilderness to which, I now hope, it will soon return. But the Nasty Left now stands centre stage. And the most probable party political result of this will be, not the triumph of the Nasty Left, but the electoral demise of the political party that they have captured.
Wishful thinking? Certainly. I very much want the Labour Party as we have known it to end. But, I truly think that this might now be about to happen.