I recently had a clean-out of my home, and one of the things I chucked out was a small stack of recent and not-so-recent newspapers.
Before binning them I took photos of their front pages, because front page photos, I find, can often make very evocative souvenirs. Plus, unlike the actual newspapers, they don't clutter up my home. (Just my hard disc.) I also often take photos of front pages when I am out and about in London. Maybe (although I promise nothing) I'll do one of those "a year in newspaper headlines" postings, come the end of the year.
I haven't gone through this latest clutch of front page photos properly yet. My camera always sees more than I do, until I really look at what I've got. But, I have already been smiling at this front page headline: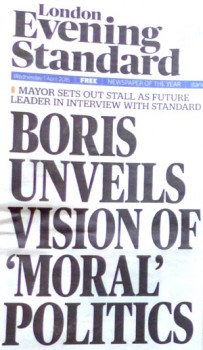 Someone's having a laugh, right? I don't think it's just me.
And the date above the newspaper headline …:
… tells me that one of the someones having a laugh is the Evening Standard. Nice one, gentlemen.
Here, for those who care, is the story.