If I emerge from the front door of my block of flats, but then realise that I have forgotten to bring my camera with me, then, unless I am in an extreme hurry, I turn around, go back up the five flights of stairs to my home, and get my camera. I cannot bear to be out and about in London without it, being a ever-more voracious photographer of whatever I see on my perambulations that interests me, and that's more and more, the more I think of different interesting things to keep track of.
Plus, I just know that if I am not careful in this way, then the one day when I do not have my camera with me will be the exact day that an Airbus 380 on its way into Heathrow gets into trouble so serious that it is visible even to me, and plummets down into central London.
One of the things I like to photograph is the front pages of newspapers, because of their often amusing or arresting headlines. I mostly do this in the shop where I often buy my monthly copies of the Gramophone and the BBC Music Magazine (by "music" this magazine means classical music) and my weekly copies of the Radio Times, so the proprietor doesn't mind me photographing other things. He knows that I am not going to buy any of these newspapers, but that I might be about to buy something else, and that I regularly do, even if maybe not on that particular day.
And, I take a lot of other photographs, of such things as cranes, bridges, Big Things, roof clutter, signs and notices, and other digital photographers, especially when they are engaged in photographing such things themselves, or in photographing themselves.
All of which is my explanation of why I took the photo below (on March 14th 2014) but then forgot about it, until I went trawling through my photo-archives seeking something else entirely: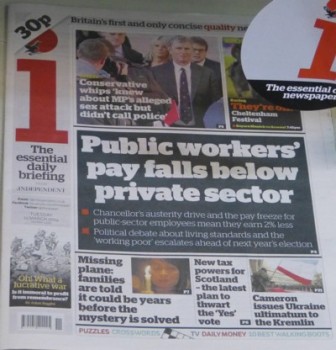 I couldn't find that exact story on the www, but here is the Evening Standard version of the same thing.
For me, this is always an interesting moment in the see-saw that is now British politics, between regimes which contrive as much government as the voters feel they can afford and regimes which unleash more government than the voters feel they can afford. (The option of having less government than the voters feel they can afford, is not, alas, considered worth offering.)
I cannot remember to the nearest year when the Blair/Brown regime was reported as having pushed public sector pay above this same mark, contriving a country in which public sector workers were, on average, reported to be getting more than private sector workers, but I do remember noticing that moment, and thinking it of some significance.
And this latest little tilt in the balance between production and predation strikes me as significant also, and worth noting here even if the announcement happened a couple of months ago. Just for now, for the time being (or so it says in the newspapers): production gets you better wages than predation. Good.
I know, I know. As good news comes, this is pretty small stuff. After all, even this feeble milestone took them four years to get past. As "austerity" goes, it is very mild indeed. But it is good news, I think. And I particularly enjoy being told it by a newspaper which so obviously disapproves of the story that it is telling.