This io9 piece reports that a musical based on Ayn Rand's Anthem will open, in New York, on May 29th.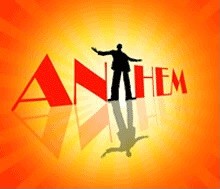 There is a website, where you can read this:
Anthem is told through the words of Equality 7-2521, in diary form. Equality 7-2521 is a young man who lives in the future after a time called the "Great Re-birth". The city in which he lives is surrounded by an immense forest which is thought to be impassable due to the fact it is filled with wild animals. This is a simple and isolated society in which all technology is carefully controlled and in its most primitive state. All awareness and understanding of individualism has been lost and words such as 'I', 'me', or 'mine', do not exist in spoken or written language, therefore, nearly the entire story is told in the 'first person plural'. Independent thoughts and/or actions are strictly prohibited by law and therefore, everyone lives and works in groups as a collective body also known as the "Great We". …
It will be interesting to see how well it does.