One of my favourite, regular visit websites is Dezeen. At least half of the stuff there is of very little interest to me. But, I find myself wanting to look at about a quarter of it more carefully, and a single figure percentage of what it sticks up tends to interest me a lot. That's a lot of interestingness, when you consider that Dezeen is, as of now, updated several times every day.
In particular, Dezeen often features an interesting new gizmo, news of which can be easily rehashed into one of those ain't capitalism grand postings that we love to do here, as often as we are able to tear our eyes away from the ghastliness of politics.
So, for instance, today, Dezeen has a description of a supersonic airplane, the distinguishing feature of which is that instead of the airplane having lots of windows for its highly paid passengers to look out of, it instead has cameras recreating the visual effect of looking out, and much more continuously and impressively than is possible when you are relying on real windows. Like this: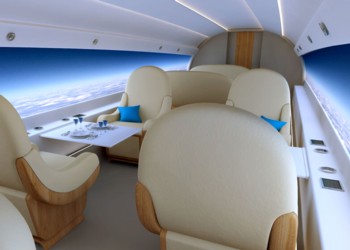 Quite how exactly this arrangement fakes the real experience of looking out of a continuous window shaped like that, I do not know. Will 3D effects be involved? But considering that the faster an airplane goes (this one is intended to be very fast indeed) the more expensive it becomes to carve windows into it, and considering that the cost and bulk and weight and quality both of cameras and of screens are all variables that are moving in exactly the right directions, this struck me immediately as one of those "Why did I not think of this?" ideas. By that I do not mean that I could do the actual work of contriving such an airplane, merely that I ought to have realised far sooner than today that other much more engineering-savvy people than I would very soon be talking in public about such notions, and that they presumably have been doing this for quite some while, without me noticing it.
I would further assume that the structural benefits to having an airplane which does not have a lot of quite large holes scattered all along its fuselage must be considerable. Yes:
"It has long been known that the windows cause significant challenges in designing and constructing an aircraft fuselage. They require additional structural support, add to the parts count and add weight to the aircraft," said the company.
On the other hand, if what is required inside the airplane is concentration on the job to be done when the airplane has landed, as might well be the case, then other imagery can go in the "window" instead. Or, presumably, no imagery at all.
Relying on cameras for a task like this means that if the worst happens and the cameras all go haywire, nobody dies. A few people merely have a somewhat less amusing trip than they might have been anticipating. Do the pilots have an actual window in front of them? That might be wise, but maybe not.
Whatever the details are, and indeed whether or not this particular airplane ever gets anywhere near taking to the air, I'm impressed. And talking of people who are much more engineering-savvy than I am, I wonder what our commentariat thinks about this notion.