What follows is based on a talk I gave at the end of August at one of Brian's Fridays. See also Parts I, II, IV, V & VI.
Politically, these are radical times. In 1906 a Liberal government was returned by a landslide.
Elections in those days were very different from the way they are today. For starters, the electorate was much smaller. Women couldn't vote at all and men had to be over 21 and pass a not particularly onerous property qualification. General elections themselves, took place over the course of a couple of weeks. In each constituency the voting would take place over a number of days and it would not be the same days in each constituency. As a consequence the results would filter in over the course of a week.
Up until 1910, MPs weren't paid at all. If they wanted to become a minister they would have to resign their seat and fight a by-election.
The Liberal government introduced the Workmen's Compensation Act, old-age pensions, sick pay, unemployment benefit for certain trades, maternity benefit, nationalised GPs, allowed Trade Unions to pay strike pay and, as I mentioned earlier, nationalised the telephones. To pay for it all they upped taxes. At this point the Unionist-dominated House of Lords objected causing a constitutional crisis. After two general elections in 1910 and a threat to create 1000 new peers the Lords' backed down and their power to block money bills was removed for good.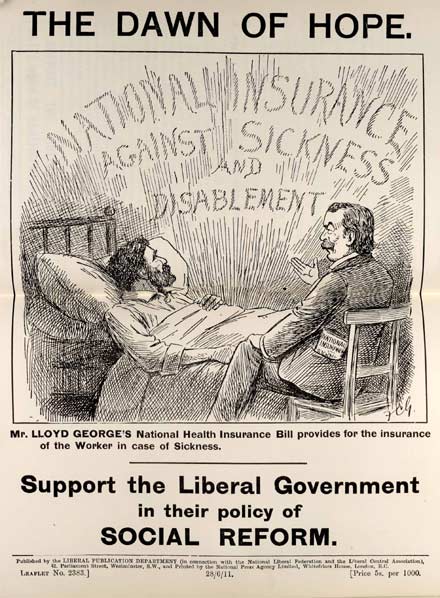 Sick pay is not working particularly well. In the days when sick pay was entirely in the hands of friendly societies they had powerful incentives to make sure that people claiming sick pay were indeed sick as indeed did the doctors in their pay. Now that the state bears the costs you will be shocked to hear that there has been a dramatic increase in the number of people claiming sickness benefit. Malingerers, as they are known can get away with it because doctors are signing them off as sick without making a proper examination.
In 1910 the Liberals lost their majority and went into coalition with Labour and the Irish Nationalists (one of whom, incidentally, represents a constituency in Liverpool). The price of Nationalist support is Home Rule and the obstacle to that, as always, is Ulster. In the North, men are drilling and guns are being run. The Unionists are in the process of setting up a provisional government. The penny is beginning to drop that this could end in Civil War.
The suffragettes are causing chaos. They are breaking windows, destroying mail, disrupting political meetings, and burning down country houses. When jailed they go on hunger strike. Initially, the state force fed them. When this proved unpopular it started releasing them when they became weak and re-imprisoning them when they'd become stronger. Known as the Cat and Mouse Act it simply proves that the state has no idea what to do.
It could of course give women the vote. A bill was introduced in May 1913 but mysteriously failed to pass. While arguing against it, the Prime Minister, Herbert Asquith amid much tedious inconsequential waffle argued that the bill would enlarge the franchise both too much and too little and therefore, it should be rejected.