Further to yesterday's SQotD, which was an MP dissing the Climate Change Act, I spotted this propaganda, on the big expensive greenhouse type front door, in Victoria Street near where I live, of the governmental organ that now calls itself the Department for Business Innovation & Skills: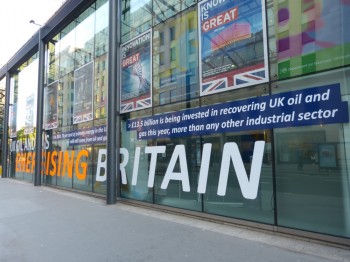 Those wanting to say that my title for this posting is nonsense won't have to go very far to prove themselves right, in their own eyes. All they need to do is go to the Department for Business Innovation & Skills website, where they will find no prominent mentions of anything about Energising Britain with such things as oil or gas, but plenty of mentions of things like Offshore wind industrial strategy and Multi-million pound investment in offshore wind industry to unlock billions in UK economy. Unlock billions from the UK economy, more like.
I agree, sort of, in other words, with a commenter on that SQotD, who said:
Too late, the scam has been running long enough that there are now too many snouts in the trough.
The above piece of propaganda that I photoed may not be an actual lie, in the trivial sense that 13.5 billion quid may indeed be being invested in Britain this year in oil and gas, despite everything that the Department for Business Innovation & Skills may have done to discourage such investment by instead prattling on about wind farms for the last decade or more. But as an exercise in saying what the Department for Business Innovation & Skills is now concentrating on, it is a lie. The racket continues.
But this is often the way with big government bureaucracies. The truth, and a consequent forthcoming shift of policy emphasis (that later cascades into a truly new and totally different policy), often first impinges in the form of public lies about what they are now doing, even as they persist behind the scenes with the old discredited nonsense.
Never underestimate the reverse-impact of public relations departments, in the form of them telling the other people in the building what they now all ought to be doing. The collapse of the USSR, no less, began as a big old Soviet lie about how the USSR was going to start being efficient and nice and good, by doing something called "Glaznost". It was wall-to-wall bullshit, but it was wall-to-wall bullshit that helped to change the course of history. The USSR, like "green energy", "climate change" and so on, was another huge scam that went on for far, far too long, and by the end snouts in the trough was all it was. And the snouts only changed things when the trough was getting seriously near to totally empty. But change things they did. Millions had already died, and millions more had endured lives of utter misery, and in this sense, the change came too late, far too late. But change like that is never not worth doing. There is still a future worth improving, for many millions more.
Suppose you were a green fanatic who had weaselled your way into the Department for Business Innovation & Skills, and got yourself a job giving money stolen from British taxpayers to friends of yours who construct wind farms for a living, and emitting Niagaras of lies about how that was going to "energise Britain". How would you feel about walking past all this stuff about oil and gas, every time you went into work in the morning?
You might think that all that lovely oil and gas tax revenue would perhaps enable you and your lying friends to keep the wind farm scam going that little bit longer, and if you did feel that, you might well be right. But I don't think, on the whole, you'd like what you were seeing every morning. Just keeping your little scam going for a few more years until you are safely retired is hardly what you had in mind when you began it. Then, it was a cause, and you and your pals would be all over the history books, in a nice way. Now, history is looking like it might be taking a somewhat different turn.
For starters, there is no mention in this big lump of verbiage, of green, either as a word or in the form of the actual colour green. There is only a rather garish, shamelessly industrial, orange. "BRITAIN" in big letters also has a nasty, nationalistic taste to it. Whatever happened to saving the world?
More fundamentally, "oil and gas" is everything you hate. Oil and gas is vast, clunky metal structures noisily gouging dirty old energy to set fire to out of defenceless Mother Earth like it's 1925, or if it now isn't that, you still think it is, as do millions of others who also think: Hurrah! It's a whole generation of people saying: Bollocks to wind farms, let's get rich, again. It's the whole world saying: "Climate catastrophe? Let's not worry about that when it doesn't happen, okay?" Despite all the wind farm idiocy that the Department for Business Innovation & Skills is still shovelling out, I think I smell change here, and for the better.
LATER: Green bloodbath in Australia.
SEE ALSO: Alex Singleton, at the ASI blog, says that Parliament's cushy consensus over climate change is dead.