Marmite… a dark pungent paste in a jar that has been separating men (of all ages) from mere boys (of all ages) since 1902… has once again shown they are The Food of the Gods.
Marmite TV advert draws widespread complaints. A "high volume" of complaints was received after the advert aired on Monday. A TV advert in which a spoof rescue team saves "stricken" jars of Marmite from homes where they have been neglected has prompted 278 complaints.

Some 250 complaints were received by the Advertising Standards Authority in just 24 hours, following the advert's debut on Monday evening. Those who objected found the advert "offensive" and "in poor taste", said a spokesman for the ASA. Viewers complained "it trivialises the work of animal welfare charities".
Poor taste? Bah! Off with their heads! Often one can measure a person's worth by who they piss off, be they Edward Snowdon (PBUHH) or… Mr. Marmite… it has to be Mr. as this is truly food-with-serious-bollocks.
So here you go, Marmite my mate, some free advertising by Samizdata.net.
Indeed some of us take our Marmite so seriously we have sterling silver lids to replace the ugly plastic ones that they have now rather than the earlier rather marvellous metal ones.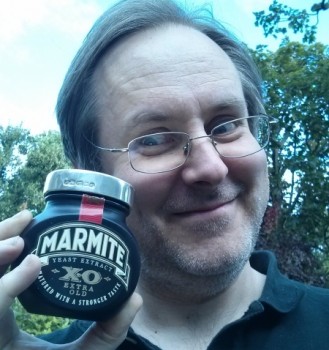 I recommend the Marmite XO for that extra Marmite wallop of gastrogasmic goodness, ideally with some really robust Cheddar.