About a month ago, I did a posting here about the impact of digital photography on trade. The kind of trade I had in mind was the selling of stuff on the internet. That we can now easily take pictures of what we are selling makes such trade massively easier. (Or in my case take a picture of the kind of thing I was looking for. And no, I still don't have a sofa of the sort I want, but that was really only an excuse for the posting.)
Here is another picture which illustrates another aspect of the economic impact of digital photography: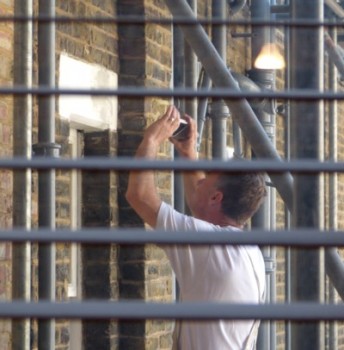 I took that photo through my own kitchen window, this morning, the big horizontal lines being my Venetian blind.
My kitchen is three stories up in the sky, and this guy was standing not on the ground but on scaffolding, bits of which you can see, and upon which workers now clamber about each morning, banging, scraping, hole-filling, painting, and so on, generally making everything look nicer and work better.
This guy was not taking pictures for fun. He was recording the progress of the job.
Think about that. Think how much easier it now is, in the age of cheap digital photography, to keep track of a job like this one. Think how much easier it is for the workers to know exactly what they did, exactly when. Any disputes about whether the various stages of the job were done, when they were supposed to be done, to the required standard? Did some damage get done, and is there a dispute about when it happened, and hence who was responsible for it? Here are the pictures. Human memory plays tricks, but cameras have memories built into them, recording not just the picture, but the date and the time of the picture. All the photographers involved need swear to is that they didn't tamper with the timing system.
A basic part of doing work is recording the work you have done, and recording the fact that the work was up to standard. This is especially true if the work done will shortly be buried under further work, as is so often the case with building projects of course.
Think what a contribution to this recording process the digital camera has, for quite a few years now, been making.