From time to time I do Samizdata postings about how rapidly technology is advancing these days. Recently I stuck up an SQotD on the subject. Here is another such posting. Basically it's two pictures.
The first is a picture of my first proper computer (I do not count the Sinclair Spectrum), purchased in about … 1981? This computer, an Osborne 1, consisted of a very small screen, a keyboard, and about half a ton of electrical gubbins, including two disk drives, each accommodating disks that were, I seem to recall, 256kb in capacity. 256kb was a lot of kb in those days.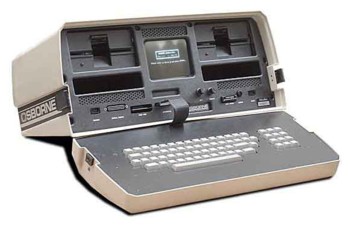 The second picture is of my latest computer, which is a Google Nexus 4, plus a couple of bits of plastic to prop up the Google Nexus 4, plus a keyboard: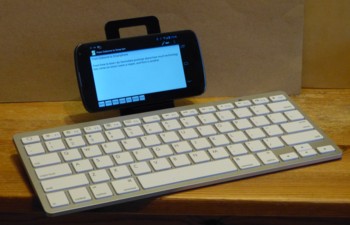 For me, the killer app of all computers has always been word processing, the ability to type a piece of writing into a machine, and then to modify and expand the piece at will, and only when it's nearly finished have it automatically printed out. And then printed out again if you need that, as you almost certainly will. Amazing. (This being the twenty first century, you may want to read "print out" as "publish".)
My first "word processor" (the inverted commas because word processing as we now use that phrase was exactly what it couldn't do), which I used for about a decade, was an Olivetti typewriter. For this I paid twenty five quid, which is about the same as what I recently paid for the Google Nexus 4 after you include inflation. For those who do not know what a "typewriter" is, the basic rule was that the only way you could store the words you had thought of, in the order you wanted them in, was to print them all out, one letter at a time, as you thought of them. The switch from that to the Osborne 1 remains the single most exciting technological leap of my life, although the arrival of blogs runs this a close second.
As for the smallness of the screens of both these computers, well, each to his own, and I entirely get why many would hate to process words on such a tiny thing as the Google Nexus 4 or with a screen as tiny as that of the Osborne 1. But I loved the small Osborne screen. There was something very appealing to me about those tiny little letters, so much more so than the big clunky letters on other computers of that era. Me being short-sighted, the distinction that really matters to me is not big-screen-versus-small-screen; it is screen (however big) far away: bad, versus screen (however small) near: good. And if the Osborne was not in any very meaningful way "portable", it was at least, to use a word from those days, "luggable", from one work top to another, as and when the need arose, which for me, then, it often did.
And just as I loved the tiny old Osborne screen, I now rather like the Google Nexus 4 screen. But of course what I really like about the Google Nexus 4 screen is that, since a tiny screen is all that it is, it is so light and so small that I am happy to carry it around in case I need it to process any words, even if I never actually do, on that particular expedition. For me, in my present aging and physically weakened state, the difference between a computer too heavy to carry around without being irritated by it unless I use it, and a computer so light that its weight is not a problem even if I don't touch it all day long, is a big difference. Even today's small laptops – minute compared to the Osborne – fail this test, for me, now.
The beginnings of this posting were mostly typed into the second of the two computers pictured above, before being transferred into my regular non-portable computer, the one that resides permanently in my kitchen. I am still amazed at how well this transfer worked, the very first time I tried it. While I was doing the transfer, it looked as if all the paragraphing would be lost, but when I pasted everything into a text file on the kitchen computer, there it all was, just as it began. Magic.
In addition to being a word processor, the Google Nexus 4 is also, as already noted, a telephone. And like all mobile telephones these days, it can also send what used to be called telegrams. It is also an A-Z Guide to London, and a map of the Underground. The map even works, unlike an A-Z of London, when I venture outside of London. It tells me when the London bus I await will reach me. It is a mini web-browser, a mini-Kindle, and a means of posting relatively straightforward postings to my blog or (when I have worked that out) to this blog. It is a gadget for identifying music recordings just by it listening to them, being just as good at identifying classical recordings as it is a identifying pop. It is even a rudimentary camera. All of which makes it that much more likely that I will use my Google Nexus 4 for something during just about every expedition I go on. The old Osborne 1 could do none of these things. But you knew all that, and much else besides which I have yet to discover. You get the pictures.
I am, of course, not the only one who has noticed how well technology is doing these days compared to politics. If you look for this particular meme, you see it everywhere. Here is a whole book with that notion as its starting point, linked to recently by Instapundit. (Who, by the way, also linked to and recycled that SQotD. I thought he might like that one.) Says the author of this book, Kevin Williamson:
Why are smart phones so smart – getting better and cheaper every year – while our government is so dumb? Is there a way to apply the creative and productive institutions that produced the iPhone to education, public schools, or Medicare?
He thinks there is, as do I. More from and about Williamson here.
LATER: Instapundit quotes Williamson again:
We treat technological progress as though it were a natural process, and we speak of Moore's law — computers' processing power doubles every two years — as though it were one of the laws of thermodynamics. But it is not an inevitable, natural process. It is the outcome of a particular social order.