I have been a bit scarce around Samizdata lately as I have been out in the Mojave desert working on the Lynx Spaceplane… the same one you get to ride if you win the Lynx for Men contest. You know, the "Nothing Beats an Astronaut" one? In any case, we are not alone at the Spaceport. There are engine firings, vertical takeoff test flights by Masten Aerospace and yesterday… a milestone by our next door neighbours, Scaled Composites.  I have very little time to write just now, but I do want to share a few of the images with you.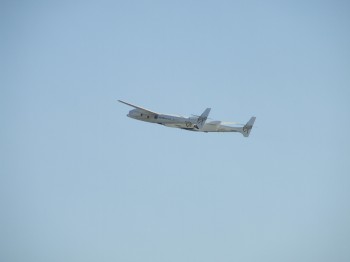 I got in by 6am and one of our guys was monitoring the tower frequency so we knew when they were cleared for takeoff.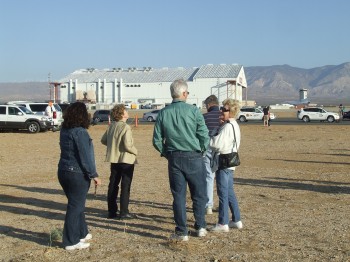 We spent the next hour or so hanging out in the viewing area about a mile from our hangar. Most of the time we could not even find the little tiny spec in the sky.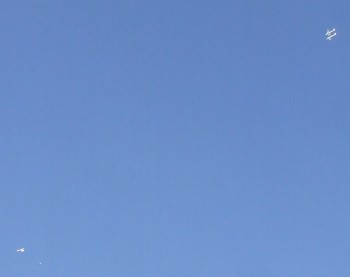 My camera refused to focus on the tiny white dot of fire in the big blue sky so although I saw the drop and ignition visually, I did not get a picture. Their burn lasted in the range of 15 seconds and Doug Jones (XCOR) said he heard a mild boom so they may well have gone supersonic as planned.  In this photo WhiteKnightTwo is diving to close on SpaceShipTwo, now on its glide to landing phase.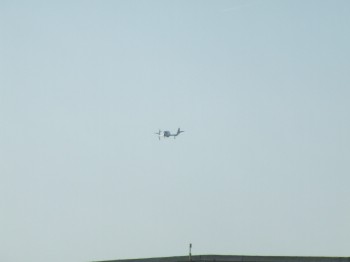 We were not all that far from the touchdown point on Runway 030. For those with long memories, Sir Richard Branson's rollout bash on December 7, 2009 happened at the jet blast deflector at the threshold of 030. You can find that photo essay in the archives here.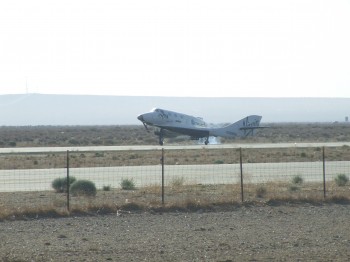 I managed a number of good shots on the approach and was particularly happy to catch the very instant the wheels bit into the runway. Later on, outside our hangar, I spotted a grinning Richard Branson animatedly talking to designer Burt Rutan as they walked under WhiteKnightTwo on the way over to SpaceShipTwo. Yes, I do have those photos but I was on field outside our hangar so those photos will have to wait for posterity.