Alert readers may have noticed that the default category, here at New Samizdata (it wasn't like this at Old Samizdata) for all postings (i.e. if we forget to put in proper categories), is: Hippos. This is because our Dear Leader has a fondness for hippos. This means that I am constantly on the look-out for hippos in the shops of London.
It also means that I have been wanting to do a posting here that really is about hippos, ever since New Samizdata got into its stride. I didn't just want to find some hippos. I wanted then to write here about them.
Easier said than done, because you might be surprised at how hard hippos are to come by in London. I would have thought that hippos would be as popular as dinosaurs, pigs, cows, horses, dogs, cats (small and big), and maybe even as popular as teddy bears. But no. Hippos seem not to figure in the manufacturing plans of most toy, model or miniature animal makers.
So, it was a happy moment when, while wandering about in South East London last month, I chanced upon a sort of ornaments/antiques/junk shop which was, in among much else, selling these: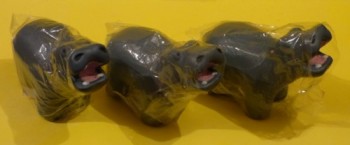 How much is this hippo?, I asked, waving one at the lady at the desk. Fifty P, she replied. Then, perhaps mistaking my stunned amazement at how cheap the hippo was for a desire to haggle, she added: You can have three for a quid. Done, I said. Three. I should have bought all the hippos they had. Later, surprise surprise, I found the words "MADE IN CHINA" printed on the stick-on label next to those little hippo feat. The label also said: "FUNTIME GIFTS LTD.", but I could find no mention of any hippos here.
They are very poorly done hippos, I have to admit. They are made of foam rubber, with a smooth skin that is then painted, with unfortunate results for the paint if you squeeze the hippo there. Already, one of them in particular has many small cracks in its paintwork. But no matter. Score.
Have you noticed how, with gift giving these days, the cheaper it is, the better? Any fool can get his friend a great hippo, if he is willing for his bank account to take a comparably great hit. But the gift you really want is one that is just what you want, but which the giver found, rather than merely threw money at. It's the thought and the effort that counts, more than ever, as getting your hands on mere stuff gets easier and easier, what with it all being made in China now for next to nothing, and then brought to you by supertanker, ditto. But maybe that's just me. Comments on that?
Yes, they are still in their cellophane wrappings. It is for Original Perry to unwrap them, not me.
LATER (with the cellophane gone):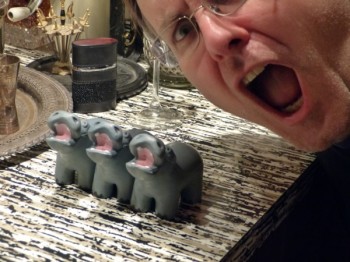 The four of them seem very happy, wouldn't you say?