I like photographing new London buildings, the taller the better. And I am also very fond of photographing cranes, which can be quite dramatic but will soon be gone. So, when a new tower started getting built just across the Thames from me, all the while lovingly tended by just the one very tall crane, I photoed it, quite often.
Here is how the tower and its crane looked in May of last year.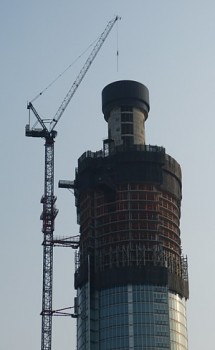 That's a shot taken from Vauxhall Bridge.
Here is a somewhat more artistic shot of the top of the tower, and its crane, taken last November, from Vauxhall Bridge Road, which is to say from rather further away: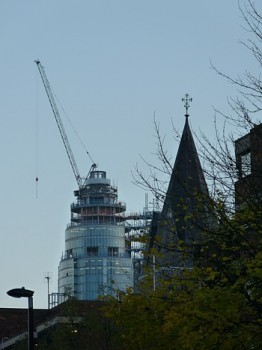 But now look at them, as photoed by me this afternoon: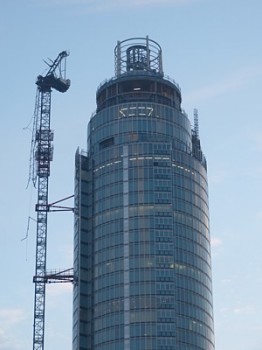 The tower is okay, but the crane is in a sorry state.
During this morning's rush hour, when it was very misty, a helicopter smashed into the crane. As you can see, the crane suffered badly, but what happened to the helicopter was far worse. It lost its blades, plummeted to the ground in flames, killing its lone occupant, the pilot, and another person on the ground. Blazing aircraft fuel was all over the place, and nearby cars were engulfed in the resulting flames and themselves also exploded. Had it happened rather later, when the road where all this happened would probably have been traffic-jammed, it might have been an order of magnitude more horrific.
Not surprisingly, this is one hell of a news story.
This afternoon I got nowhere near where all this drama had happened, and didn't seriously try to. But a zoom lens was all I needed to photo what happened to the crane, and this will surely get photoed a lot, for as long as it stays up there for all the world within about half a mile to see. I'm guessing that there is going to be lots of tidying up and sorting out to be done at ground level, before it will become possible to replace the crane, and finish building the tower.
Terrible. Deadly. And, given how costly it is when a major building project is at all seriously delayed, as this one surely will now be: very expensive.
LATER: A better view of the ruined crane, in the form of an expanded detail of the crane itself, minus most of the tower, here.