Tonight I have the first of my new lot of Brian's Fridays, and with this in mind I have been keeping half an eye open for cheap, cheerful chairs. In the course of which process I recently discovered a new use for digital photography.
I am fond of joking that my digital camera, especially the latest one with its super-zoom lens, has better eyesight than I do, but this is more than a joke, which is why it is, I think, quite a good joke. It's true.
So there I was in Tottenham Court Road looking through the window of a shop, long after it had closed, and observing from a distance a chair that looked pretty cheap to start with and had been reduced from … £something, to £something-even-less. From what? Even if I had more up-to-date glasses I probably couldn't have made it out. And more to the point to what? Those vital numerals were quite big, but unclear.
I got out the camera, cranked up the auto-focus, took a photo, and I quickly had my answer: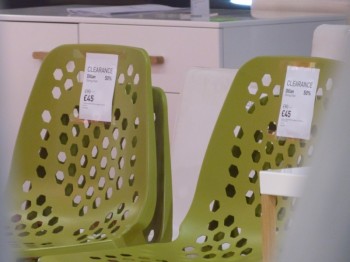 Still too much, I think. But good to know, in real time.
I'm still a bit hazy about how to do that click-and-enlarge thing here at New Samizdata, but trust me, on the original I could also see that it was reduced from £90.
Sam Bowman, my speaker for the evening, has just arrived, and I told him about this posting. Yes, he said, a little telescope in your pocket. Exactly so.
One of the many uncertainties about the future generally (such as the portentous banking uncertainties that Sam Bowman will be speaking about) and about the applications that people will find for new technology in particular is that you often can't tell beforehand what rather surprising applications people will find for new technology. Digital photography costs more than nothing, quite a lot more than nothing if you really like it, but its marginal cost, the cost of the next photo, really is, pretty much, nothing. That means a world full of hard discs full of photo-crap. But it also means that if you have digital photography on you, you will find further genuinely useful uses for it, the way you never would for photography done with shops or dark rooms.
I have long used my camera to photograph signs, next to tourist attractions or to paintings in galleries. I even choose to speculate that in the age of digital photography such signs may well have become more elaborate, long-winded and informative. I routinely photo local maps while on my photographic wanderings, so that I later know where everything was, even years later. But I have never before used my camera actually to see something very trivial, very boring to anyone else, right then, right there.
The boringness and the triviality being the point. Capitalism doesn't just do big stuff, like: digital photography! It does the little things, like telling you the price of a chair which is too far away for you to be able to read the label. And, you never know what other boring and trivial things it might be able to do for you in the future.
Don't kill it.