While perusing the Times from 1912 I came across an article that mentioned Austrian mobilisation.  This got my attention for two reasons.  The first reason was that it's big stuff.  Mobilisation is as close as you can get to going to war with actually doing so. Things must have come close to the brink.  As Eric Sass explains (in a wonderful series, by the way) they had:
On November 22, 1912, Germany's Kaiser Wilhelm II had promised Franz Ferdinand, the heir to the Austrian and Hungarian thrones, that Germany would back up Austria-Hungary in a war, and on November 17, the French premier Raymond Poincare assured the Russian ambassador that France would back up Russia. The stage was set for a conflagration.
He goes on:
Fortunately, internal divisions in St. Petersburg helped avert further escalation. The Council of Ministers, furious that Nicholas II had bypassed them in ordering mobilization, demanded that he cancel the orders. At the same time, France, Germany, and Britain were scrambling to arrange a diplomatic meeting that would allow them to iron out the complicated situation in the Balkans; the Conference of London, which first met in December 1912, ended up preventing Serbia from expanding to the sea, satisfying Austro-Hungarian demands.
I love the use of the word "fortunately".
The Austrians even issued a commemorative medal: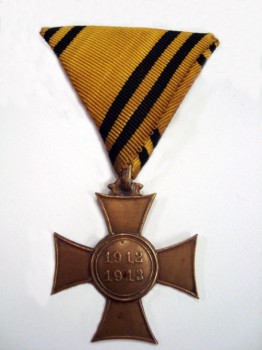 The second reason it grabbed my attention was that it completely undermines the argument (put forward by Harry Elmer Barnes) that the Entente was just as much to blame for the First World War as the Germans.  The claim rests on the idea that mobilisation meant war.  In other words, Russia's partial mobilisation in 1914 was just as aggressive as Germany's subsequent declaration of war.  The fact that a mobilisation happened and war did not follow only a couple of years previously would appear to blow that argument out of the water.