Okay, I admit it. This is me checking out how you post photos on Samizdata, with Michael Jennings sitting next to me to show me, what with him already having done this successfully.
Nevertheless, this is quite a fun photo. It was taken on November 28th of this year: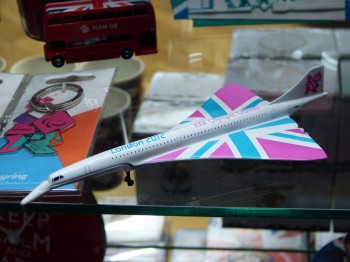 Words don't fail me, but you surely know what I mean.
There's the fact that Concorde was scrapped in 2003. There's the weird colour changes imposed upon the dear old Union Jack (which were such a feature of life in London in this Olympic Year). There's the fact that this is an item of weirdly designed Olympic stuff on sale and on display in a London shop (it was not the only one – trust me). And there is the fact that this weirdly designed Olympic object is still on sale now, months after the Olympics have been and gone. Michael assures me that Olympic crap will still be around in our shops for many more months yet.
There is probably plenty more to be said about this strange, strange thing, but I leave it to others to add such observations.