Last week, on Wednesday October 31st, unaware that this was "Halloween Night", and entirely for my own personal reasons, I happened to find myself at Piccadilly Circus, in the middle of London. Lots of people were dressed in funny costumes, with a definite bias towards monster masks and make-up that suggested extras in horror movies. I had my camera with me and snapped away. It was dark, but the big adverts flickering away above and beyond the scene ensured that it was quite well lit. Some at least of my snaps came out okay.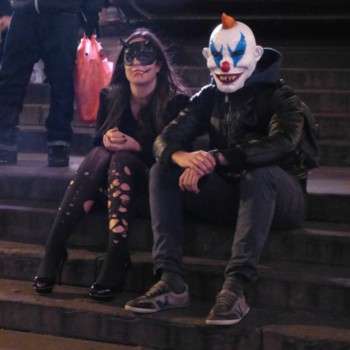 Halloween has been on the up and up in Britain for quite a while. But when I was a kid half a century ago and more, the big deal at this time of year was Guy Fawkes Night aka Bonfire Night aka Fireworks Night. Halloween was, then, even a distant American rumour.
Guy Fawkes Night is supposedly tonight. Remember remember the fifth of November, etc. I can't remember the rest of the words of that nursery rhyme or poem or whatever it is, but the date is imprinted on my brain. But Guy Fawkes Night seems to be fading in popularity even as Halloween has risen up to challenge it. It is now, as I finish this posting before its November 5th deadline expires, nearly midnight, and had I not, in my central London home, been listening out for explosions, I would have heard hardly any. Even with maximum alertness, I heard only a tiny few. I am told that many pet dogs are driven nearly mad with fear by these bangings. If only for the sake of these suffering dogs, I now wish that the Guy Fawkes habit would cease entirely.
So, why is Halloween on the rise, and Guy Fawkes Night in decline? It can't only be that people want to make life better for dogs. Let me now try to guess some of the ways.
Let me start with the simple impracticality of arranging a bonfire these days. As life gets ever more urban, random clutches of combustible material just don't get accumulated, the way such stuff did in the big suburban garden of my childhood, or out in the public places of Englefield Green, the outer London suburb we lived in, which really did have and still does have a big "green" bit. Simply for that reason, I should guess that Bonfire Night retains more of its old popularity in places like Englefield Green – even more so in the proper countryside – than it now does in central London. In Englefield Green, there is somewhere sensible to do it on a proper scale.
But even that may not be enough for Englefield Green to continue Bonfire Nighting in a big way. The organising classes, the people who once would have organised public space Bonfire Night gatherings complete with a big bonfire and lots of fireworks, are now obsessed with health-and-safety, either because they really believe in it or because so many others do believe in it that the law now hovers over the slightest suggestion of un-safety. Bonfires? Fireworks? Worst than that, fireworks that children hold? Children being children, following Bonfire Nights in the olden times there were always a few stories of children burnt or even blinded by, e.g. mistaking a proper firework for a mere sparkly thing that you were supposed to hang on to. Then, the moral was: well, kids are kids, and those ones should have been more careful and have been better looked after. And: bad luck, how sad. Now, such incidents provoke nationally broadcast sermons about how We Need Tighter Regulation, and lawsuits that go on for ever.
The Organising Classes would probably now like Bonfire Night to be made illegal, to the point where, if it survives, it will do so as an act not of harmless self entertainment, but of popular defiance against officialdom.
But in truth, Bonfire Night, aka Guy Fawkes Night, is not a satisfactory vehicle for such defiance. After all, what Guy Fawkes Night (to choose that particularly pertinent title) celebrates, is the public execution, by the government, of a Catholic terrorist who tried to blow up Parliament. Guy Fawkes night is an officially sponsored celebration of a government victory over anti-government disruption. If we want to defy the government with a Guy Fawkes themed event, we would do better to fake up a Parliamentary explosion and dance around it in Guy Fawkes masks, like the ones worn in Vendetta, and now at every other political demo anyone tries to arrange in London. The thing that gets burned should be Parliament, not a "Guy". Having already written the previous couple of sentences I watched this clip from Vendetta, that Guido Fawkes has up today, by way of celebrating November 5th and all that. And in that clip they do blow up Parliament, and a huge crowd all wear Guy Fawkes masks. But this doesn't mean that Guy Fawkes Night is destined to continue as it was, more that the imagery of Guy Fawkes Night is, so to speak, being asset stripped and applied to other activities, activities which are not confined to just the one day in the year.
As for the fireworks side of things, fireworks work best when resources are pooled, and when a precise time is agreed upon as the moment of celebration. I vividly recall visiting West Germany in the 1980s, over the New Year, and witnessing the night sky of Germany being lit up with ferociously Teutonic unanimity at precisely midnight, at the exact end of the old year and the exact beginning of the new. (I wish digital cameras had existed then.) And I recall thinking how much better this was as way to do fireworks than our British week of tiny little bangs and sputters and sparkles. The point was not that all these German fireworks were paid for by the government. Lots of them were impeccably freelance in their financing, as well as in their manufacture of course. The point was that everyone agreed about exactly when the fireworks would all be detonated, so that all could share the fun, and then go back indoors and carry on with their lives.
Then the same thing happened on Millenium Night in London itself, just as it did everywhere else on the planet. This was far more impressive than any "Fireworks Night" display.
Meanwhile, what of Halloween? What's the appeal of that? Let me try to count at least some of the many reasons why Halloween, unlike Bonfire Night, is now on the rise. It starts with the changed content of popular culture, since the time of my childhood. The shared folk-tales of the British people used to be of such people as Henry the Eighth and his six wives, his daughter Elizabeth and her admiral Drake, Charles the First and his unhappy end, later naval heroes like Nelson, national enemies like Napoleon, the stories of Shakespeare and Dickens, nursery rhymes about past happenings such as the Great Fire of London and the Black Death, and so on and so on, all of which had recently been vastly enriched within almost everyone's living memory by that hugely impressive new twentieth century super-villain, Adolf Hitler, and by our own local super-hero, Winston Churchill. Popular culture was based on memories of the national past, recent and not so recent.
The arrival of television, and the Hollywoodised pop culture that it inserted into Britain, didn't entirely change all that, but it did change it a hell of a lot, and it continues to. Now, popular culture is more and more rooted in a fantasy world populated by people like Darth Vader and Harry Potter. Our nation's actual history is for old guys like me. The interest that my generation has in the Second World War, and the even greater interest of what still remains of the generation that actually lived through and fought in that war, is now as much an object of mockery as of respect. It has been that way ever since Beyond The Fringe.
In a way, popular culture has reverted back to the days when the very first works of English literature, written in the very beginnings of English, were concocted not about the times when Romans ruled Britain or when the Greeks battled against the Persians, or the French against the Muslims, but about imaginary dragons and monsters who lived in swamps and who ate virgins and preyed on defenceless villagers. More and more now, vampires and living dead monsters and werewolves and space aliens, from an imaginary past or an even more imaginary future, roam the youthful imagination. Such creatures either battle against each other, or are battled against by equally imaginary superheroes. Or, they are battled against by us, all of us, everyman, in the person of post-national human heroes like the blond kid in the early Star Wars movies.
Please understand, I'm not complaining. What a lot of this reflects is the rise of a world where all humans everywhere are regarded as being basically good folks, all on the same side, battling against more abstract and universal enemies than the Spaniards or the French or the Germans or the Saracens, or for that matter than the British or the Americans. It's a pop culture version of the End of History thesis.
That we are all of us ever more capable of buying cinema tickets and televisions and internet connections and DVDs also surely has a lot to do with why real life foreigners are less and less portrayed as villains, more and more simply as fellow protagonists against the monsters.
How many movies were made last year featuring zombies and mutants and monsters? How many movies were made featuring Guy Fawkes and his exploits and painful end? See what I mean? Is it any wonder that younger people now understand and relate to zombies, but are confused by Guy Fawkes, and even oblivious of him?
At present, just to make my point for me that bit more, there is a BT internet connection advert now on the go, which features zombies and monsters and freaks of all Halloween sorts (including a procession of zombie cheerleaders who look like they stepped right out of an American high school movie), all of which jollification is set in, of all places, a British University. I am not now seeing any TV adverts that feature bonfires or Guy Fawkes or fireworks.
Add in the amateur zombie movies that are way, way beyond all counting, and the contrast becomes even more extreme. What struggling actress (a type of person more numerous than ever before in all of human history) has not, at some point in her almost inevitably doomed "career", made herself up as a zombie?
Consider also the matter of dressing up, by mere people as opposed to actresses. This has been getting cheaper and cheaper, to the point where entire shops in ever greater numbers now cater to this enthusiasm. Clothes are now – compared to other basic necessities like shelter, power and food – a lot cheaper than they were, as are luridly colourful face masks. The girls can go to work on their faces and their old or second-hand frocks. The boys can join in with ease, by purchasing new plastic faces for themselves for about half the price of a cup of coffee.
Digital photography also greatly alters the economics of dressing up, in the sense that it multiplies its rewards. Time was when dressing up gave you only the impression you made on your immediate circle of friends, the ones who came to the party. Now there is the internet, i.e. all your other friends on the planet, intimate or merely socially mediated, to say nothing of your as-yet unborn children and grandchildren. Every little gang of zombies and monsters that I photoed in Piccadilly Circus last Wednesday night had at least one photographer on their team, and most gangs contained several. Some gangs all had photographic devices of various kinds. Cameras are now unbelievably cheap. Pencil sharpeners probably cost more, nowadays. I used my fancy new camera to take my photos, but I could have used my mobile phone, which cost me well under a tenner, but which also includes a camera.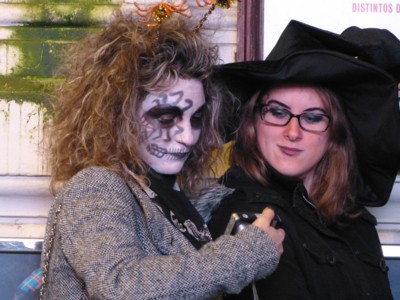 Here's another snap (click on this one to get it bigger) of self-portraitists in full flow, using a more expensive camera: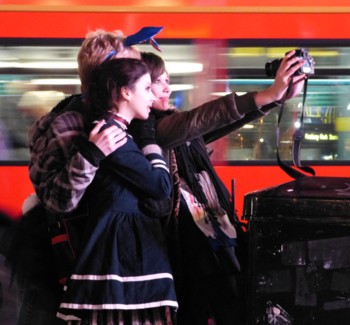 In a world like this, full of cameras as cheap and as cheerful, as expensive and as miraculous, as you want them to be, why dress up just the one inanimate object and then watch it burn (a process that is a great deal harder to photograph dramatically than it is to photo lurid costumes and make-up effects), when you can dress yourself up, and photograph that?
I took that last photo a couple of nights later, also at Piccadilly Circus. Halloween activity was then greatly reduced, almost non-existent. Later Halloween googling confirmed that Halloween Night is October 31st, and that everything is supposed to happen then. Those people, however, waited until the weekend.
I also learned that the Guy Fawkes Night of my youth began its life as a modern adaptation of Halloween. Halloween even included bonfires, as the rather appropriately named Maggie Black explains, in History Today:
The more significant pre-Christian practice of impersonating the dead and other spirits and by so doing protecting oneself and others from their spectral power also continued. Sometimes this was acted out by processions of young adults (later children) wearing or carrying grotesque masks and often headed by a youth carrying a horse's skull (as, for example, the Lair Bhan in co Cork, or the Hodening Horse in Cheshire). They went from door to door or visited friends and neighbours, collecting money for food. Before Christian times, such largesse had no doubt been given to feast the dead spirits in return for the promise of fertility and protection from evil provided by the visit. But in pre-Reformation Christian Europe, it provided candles and masses for the dead and snacks for the living.

We have transferred the ancient Tenalas or Hallowmas bonfires to Guy Fawkes Night, and children beg pennies with blackened or masked faces on November 5th too.
In other words, far from being any sort of historical oddity, the end of Guy Fawkes Night in Britain and its replacement by Halloween, insofar as this might perhaps be happening, would be more a reversion of an ancient festivity back to its true origins, after a few centuries of politically imposed aberration, than any sort of modern aberration. It's a case of back to the future rather than forward to any sort of truly new future.
I have already hinted at how this change may well be happening more in London than in the rest of Britain, and in particular the less urbanised parts of Britain, although that BT advert suggests that here too, Guy Fawkes Night is probably on the defensive. Another reason to suppose that this may be a particularly urban phenomenon in Britain is that Britain's big cities, London especially, are more and more populated by immigrants to whom Britain's religious wars of the past mean little, but who, like all other young global citizens, know their monsters and their zombies. My Piccadilly Circus revellers were notably multi-ethic and multi-national in their make-up, so to speak. Skin colour varied a lot, as did language.
And now, guess what. A special Halloween episode of CSI New York is being shown right now on British telly. There was even a scene with a bunch of zombies in it. They're everywhere, I tell you.