Here is a photograph of a sculpture, which I recently chanced upon, in the part of the city that is London is known as the City of London: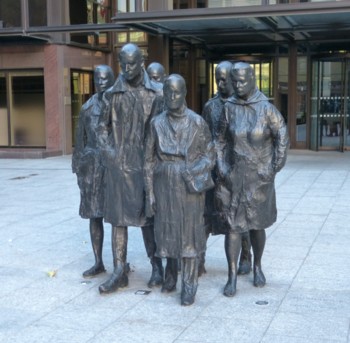 The sculpture is called "Rush Hour". It said so, on a sign in the ground in front of it. I also photographed the sign. This is a good habit for a photographer to get into. Cameras are not just for taking pictures. They are also for taking notes.
What struck me about this sculpture, as I looked at it and photoed it, was how depressed they all look, especially when compared with London's sculpted warriors. The warriors depicted on war memorials had any number of agonies to contend with, yet they stick out their chests, jut out their chins, look the world proudly and defiantly in the eye and tough out whatever challenges and horrors they are obliged to endure. These office drudges, on the other hand, have given up. Their eyes point downwards, avoiding any contact with the world or with me and my eyes. They trudge forwards, following the person immediately in front. They do not look like people fighting a war, successfully. They look more like prisoners of war, in a war that their side is losing.
But, when I got home I checked out the website mentioned in the sign in the ground under the sculpture, the sign that I had photographed, and when I did, I got quite a shock. I was confronted by this: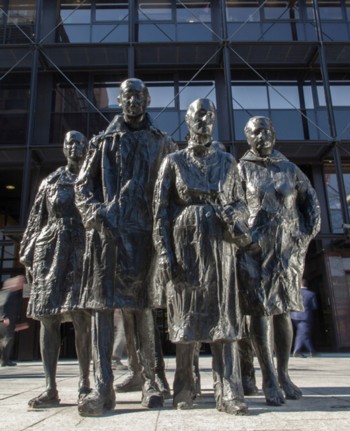 These city commuters are facing the cares and stresses of their lives with a degree of stoical optimism, even heroism, that their cousins in my photograph conspicuously lacked. Urban drudgery may defeat lesser beings from foreign lands, but Britain can do it! We shall prevail! Final victory over financial services industrial monotony will be ours!
I actually had to study the above two photographs quite carefully before being entirely convinced that they are both of the same thing. Are there, I wondered, several versions of this sculpture, in different places? I slowly worked it out. These are the same statues, in each photograph. But the photo at the website was taken by someone crouching down, very low, and perhaps even lying on the ground (which means, for instance, that at least one of the figures at the back is entirely blocked from view). The figures are not on a pedestal, as both photographs make entirely clear. But this other photographer makes them look as if they are.
Particularly significant, as I say, is the matter of eye contact. In my photograph, the commuters dare not look at me. Instead they look downwards. This is why they look so defeated, so ashamed even. But in the website photo, they are looking straight at the camera, and although not happy exactly, they seem proud of what they are doing, and confident that they can face any challenges life presents them with.
The lighting is different, and that does make a difference. But mostly, the difference is in the angle of vision.
The point of this posting is not that the angle you see things from makes a difference. Most of us know this. My point is that, when it comes to the particular matter of human statues, it can make a very big difference, far bigger than I, at least, had realised, until I spent those minutes checking these two photos to be sure that they were of the same thing.
What, I wonder, might be the effect of photographing war memorial statues, statues that are on a pedestal, from a position of vertical equality, or even slight superiority? Suppose, while photographing the figures at the centre of the recently unveiled memorial to Bomber Command, that I had somehow raised myself up to their level, or even somewhat above that level. Might my photographs have looked different in their psychological atmosphere? Would the figures suddenly have seemed less heroic, less like the masters of their fate and more like the victims of it that many of them must surely have felt?
If so, it would appear that pedestals are an even more significant part of our civilisation than I had realised.