A few days ago I nearly photoed someone wearing one of those idiotic Che T-shirts, but I missed the shot.
This is the kind of thing such T-shirts ought to be saying: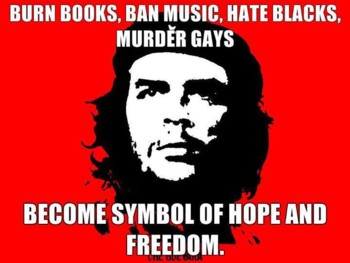 Although, I'm not quite sure about the wording, the bit at the bottom I mean. Truly, I'm not sure. It looks to me somewhat like an admission of defeat, rather than an assertion of victory. It's like the bad guys really have succeeded in burying the truth about this appalling person, and the good guys are conceding this. But the first bit digs up that truth and proclaims it, and that's good.
I found it here.
More about the real Che in this earlier posting here.