Not being wise in the ways of Twitter, I am not sure where Mr Eugenides got this piece of simple but effective graphics, only that he either acquired it or created it, one way or another, and that I found out about it because it was one of David Thompson's clutch of ephemera last Friday: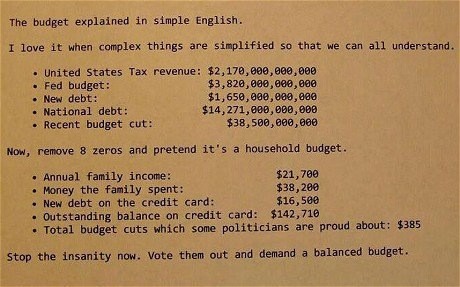 I recall reading in one of Professor Parkinson's books, I think in his classic Parkinson's Law, that people only find it easy to have strong opinions about sums of money, or circumstances generally, that are within their particular and usually rather limited range of experience. So it is that a local planning committee will spend an hour arguing about a cheap loft extension, while nodding through an entire hundred million quid power station without discussion. Something along those lines. True, I suspect. Certainly true of many people.
So, the thing to do, with these otherwise unimaginably huge sums of money that politicians are slinging around nowadays, to keep all their various financial plates on sticks spinning fast enough, is what is done here, in the above graphic. Divide them all by the same (very large) number, until the original numbers become regular numbers of the sort regular people can relate to, while the numbers all nevertheless retain their relative sizes, to each other. The essential nature of what is going on is thus laid bare, for people who might otherwise be blinded by all the zeros, and all those bewildering words ending in "-illion".
I agree with Mr Eugenides. This is clever.
And no, he didn't invent it. It's been around for a while.