I was struck by this graphic, produced by the money printers at the Bank of England and reproduced in the Telegraph: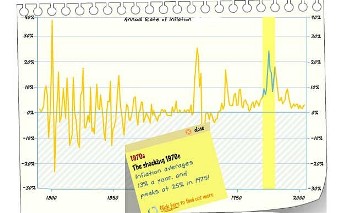 We are told (not least by the Bank of England) that deflation is the greatest threat to our well-being. But look at the Nineteenth Century. There's no end of deflation there. And yet in this time they managed to build almost all of Britain's railways (including three routes from London to Manchester), the Great Eastern, Crystal Palace, most of London, bring clean water and sewerage to the cities, introduce street lighting, make huge advances in science and medicine. and establish just about all the industries (coal, shipbuilding, steel etc) whose loss is so lamented, especially by people on the left.
OK, so I suspect a lot of those industries would have closed anyway but I fail to see how anyone could look at this graph and honestly claim that deflation was something to fear.
PS I now notice that the BoE does indeed talk about "Years of Deflation" between 1921 and 1931 and my understanding is that it was a pretty grim time. I would be interested to know if there's a response to the implied claim that deflation is or was a bad thing.