I am glad you've asked. Not well, it would appear. Over in 1912 they've had less than two months of it and even the politicians are beginning to notice:
A majority of complaints fall under the following headings:-
1. Premature disconnexion.
2. Interruptions to conversations by operators.
3. Wrong numbers given.
4. Delay in answering calls…
Etcetera, etcetera…
Do they know why? Yes they do:
…the incentives inherent in a private concern to give the best no longer prevail. It will suffice to state that in Government concerns initiative is often dormant, staffs are largely permanent, and not necessarily promoted by merit or dismissed on inefficiency, and the system of organization generally stereotyped and non-progressive.
So, are they going to do anything about it? Not exactly:
The transfer of telephones to the State is irrevocable, and must be accepted as such.
Fortunately, "irrevocable" turned out to mean "until 1984" when British Telecom was privatised.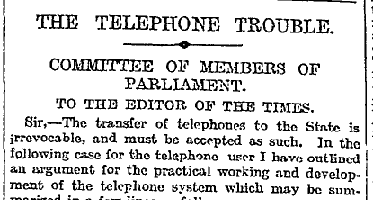 The Times, 22 February 1912. Click to enlarge.
Update Title changed so that it makes sense.