As I've recently been mentioning here, I have lately been doing lots of clearing out of junk from and organising of my home, which is a very satisfying activity. While doing this today, I had another of those haven't-things-been-progressing-a-lot-lately? moments: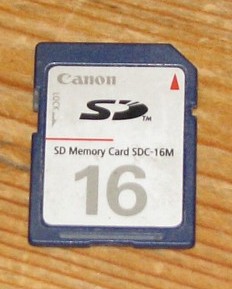 The point being that that's 16 megabytes. Not gigabytes, megabytes. This thing came with one of my earlier digital cameras, from about eight or nine years ago, and in fairness 16mb was rather stingy even then. The card could only have accommodated four photos of the size of the photo I just took of it.
I seem to recall an earlier moment of this sort, also recorded here, and also involving an SD card. Yes. Despite all the financial woe we are now suffering, this kind of progress still seems to be hurtling along.
Just wait until I get stuck into all those back issues of Personal Computer World that I also find I still have.