This evening I dined with a friend, and on my way there took this snap of an Evening Standard headline. A couple of years ago I thought that the Evening Standard itself – never mind these billboards – would soon be extinct. But although diminished in number, these headlines are still a familiar part of the London scene, now as then usually telling of catastrophe of one kind or another, public or personal. This evening's offering was no exception: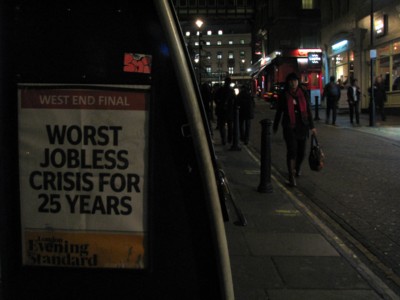 Here's the story. Depending on your preferred explanation for this sad circumstance, you'll pick out a different bit of the story. I pick this:
The shocking new total was published today as Bank of England governor Sir Mervyn King warned Britain is in danger of sliding back into recession.

He downgraded his growth forecasts again, saying the economy will expand by one per cent this year and next, a fraction of the hoped-for rate.
As Instpundit would say: Unexpectedly! It would appear that quantitative easing is proving less than completely stimulating. We here are not shocked by this bad unemployment news.
For a little light relief, here's a snap I took later, on my way home: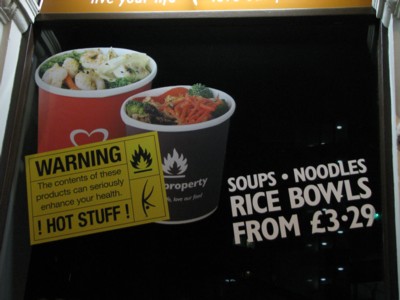 The advertising trade was bound to take advantage sooner or later of the wave of health and safety signage that is such a feature of British life just now. This is the first time I've noticed it, but I'm sure others have seen such things many times already.