Aren't we all?
I always knew there was money being made by various people, out of all this Health and Safety activity there has recently been. Someone, I have long been muttering to myself, is making a fortune printing all these signs. And there are "consultants" making a fine living explaining all the legal complications involved. Big building contractors, in particular, have lots of money and no huge public popularity, and if they break even one letter of one of these laws I imagine it can get very expensive.
This snap, taken a fortnight ago during that canal trip I went on, confirms my suspicions: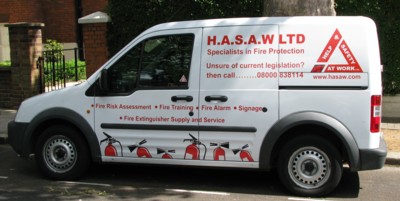 Another Van of the Times, to put beside this earlier one.
It seems that these guys began just selling legally mandated fire extinguishers, but you get the feeling that they are now branching out, don't you? The company name certainly says to me that they always saw fire extinguishers as their way into a much bigger market, which they knew was getting bigger all the time.