This is a quick thumbnail of money supply for those of you having trouble finding understanding in the tsunami of Keynesian Kool-Aid coming from our 'betters'.
On October 3rd of 2008, Republicrats and Democans responded to the failure of Lehman Brothers, bankruptcy of Bear Stearns, incipient collapse of AIG Insurance, threatened insolvency of other major financial institutions, and general panic in the financial community, by passing Public Law 110-343. This law contained two basic sections. The most infamous brought us the first of the 'TARP–ulus' genre. But a very important offsetting function was contained in another place in that same law that is known as the Emergency Economic Stabilization Act of 2008. Way down in the fine print, it authorized the Federal Reserve Bank to begin immediately paying banks to not loan out money. That was not their exact choice of words. In fact, read Section 128 where they did it and it is almost impossible to tell what exactly they were doing.
Three days later on October 6th of 2008, the Federal Reserve Bank announced it would begin paying banks to not lend money. Again, not their exact choice of words.
Within less than a month the Federal Reserve Bank began discreetly 'monetizing' by purchasing Fannie and Freddie debt.
By March of 2009, attempts at discretion fell by the wayside and the Federal Reserve began buying US Treasurys outright. Put simply this means that the Federal Reserve began 'printing' money and giving it to the United States Treasury to spend.
During this period of time (from September 2008 through current) the St Louis Adjusted Monetary Base went up by approximately 1 trillion dollars.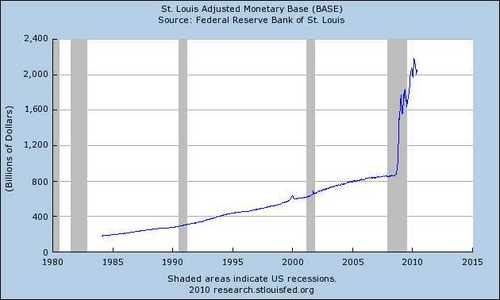 Since that time, consumer prices have anomalously trended flat (click 'view data' for specifics) in spite of the adjusted monetary base more than doubling. How can this be? First it is necessary to know what the 'St Louis Adjusted Monetary Base' is adjusted for. The 'adjusted' part is calculating Federal Reserve issued money and factoring in the fractional reserve multiplier. The adjusted monetary base is the amount of money that would be in circulation if the banks were lending the maximum amount they are allowed to. Banks have consistently lent close to their allowed maximum from at least January of 1959 through August of 2008. But something fundamental changed in September, October and November of 2008. After first faltering far into the red, bank excess reserves went through the roof and punched a hole in the sky.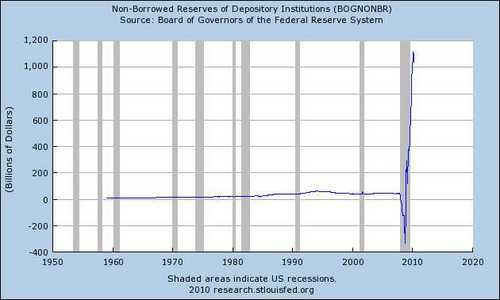 To be precise, excess bank reserves went up by over a trillion dollars almost overnight. A curious number when recalling that the adjusted monetary base also went up by over a trillion dollars in the same period and consumer prices trended flat. Some detail history.
How was this accomplished? By paying banks interest on unused funds deposited with the Fed. Previously, the Fed had only paid interest on reserves which banks were required (under our fractional reserve banking system) to maintain there; as a matter of policy "excess" reserves received no interest so banks would have an incentive to put those funds to productive use (i.e., to make loans). But as of October 9, 2008, the Fed began paying interest on all reserves, required and "excess" alike. And not just nominal interest, but interest at a rate which is higher than the "Fed Funds Rate" (the rate banks pay to each other for overnight loans), and even higher than current short-term Treasury yields. At a stroke the Fed eliminated for banks interest-rate risk, principal risk, counterparty risk, and even the capital cost of maintaining an extremely high degree of liquidity. The "cost" to banks of non-lending was driven down substantially.
So to put this thumbnail in a nutshell, the Fed has inflated the available money supply by 1 trillion dollars while simultaneously paying banks to not loan 1 trillion dollars. While there is no obvious connection between these two acts, the effect is a simple one. The FRB/Treasury is competing against the free market, effectively borrowing banks' consumer lending funds to keep the band playing while the lower decks of the nation slip beneath the waves. Killing loans is how they are hiding the evidence and disguising the potential hyperinflationary effect of monetizing. The Fed/Treas has to smother the private loan market or all of that new money they are creating and giving to special interests would show up in the form of doubled consumer prices. Not only is the TARPulus not doing any good, it is doing almost all of the harm. The TARPulus and excess-reserves-interest transactions are taking vast sums of money out of the private sector and distributing it to political factions.
Think of our politically managed economy as a health club with power junkies in charge. Money is power. After cleaning out the checking account and the safe, they are now emptying the cash register. Next step, our lockers will be stripped of valuables (UK pensions, anyone?) and after that, the power junkies will throw us up against the wall and empty our pockets (remember this?)
The problem is not and never was 'market failure'. It was and continues to be incorrigible government and inevitably corruptible politicians and regulators. This economy could and would have recovered quickly from even the most recent policy created bubble, the real estate 'boom', had the advice and opinions of some of us (even here on Samizdata threads) been heeded. The cause of this continually worsening crisis is the repairs the self-anointed experts are inflicting. Paralyzing the lending market, taking money out of the free economy and using it to fund government sector favorites, is like giving muscle relaxants and pain killers for an asthma attack. Sure the stridor of economic desperation diminishes, but that momentary relief is called 'dying'. And in the end, all the campaign donors' politicians and all the campaign donors' cash will only buy them a place on the top deck of the sinking ship.
(My gratitude to Samizdata reader Laird. Without his extensive help researching, phrasing and proof reading, this article simply would not have happened. Thanks, Laird.)