I have been rather scarce lately and those who know me well enough probably know some of what I have been up to. Much has been either of little interest to our readership or has had me too busy to even talk about it. However, I have been up to a bit of aeronautical fun the last couple Saturdays which some of you might enjoy hearing about.
For some years I have known about the F4F Wildcat which the Ulster Aviation Society pulled out of the lough where it had rusted in pieces for a half a century. I had no way to get out to the hanger where the restoration work has been going on until last weekend when I finally convinced someone to give me a lift. Once there, others decided they really could use my set of reasonably skilled hands… and the rest is history as they say. Actually all of it is history: this is a genuine British WWII veteran that ditched one winter's day while out on a patrol from this very airfield.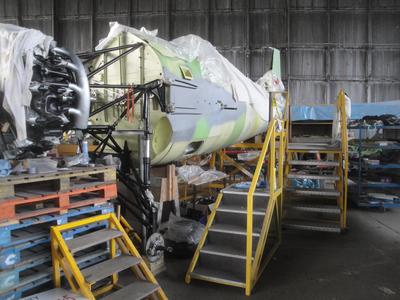 It has taken them over ten years to get here, but she is beginning to shape up quite nicely.
Photo: copyright Dale Amon, All Rights Reserved
My first job was to install a small fitting between the outside and inside of the cockpit, so I had to contort myself into odd positions to ratchet in bolts to re-install a 65 year old part to the restored fuselage skin. I also learned that a 6mm metric wrench does quite nicely on a 1/4 inch bolt…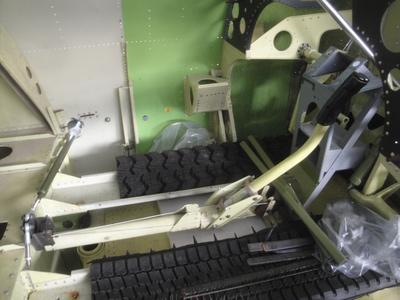 It is a good thing I got skinny again… I spent a good chunk of the day squeezed in here.
Photo: copyright Dale Amon, All Rights Reserved
After accomplishing that small task, the foreman, a retired ATC from Aldergrove (BFS), gave me a slightly bigger job. I was told to pull an aluminum fitting from the cockpit port side where the combination of new and old parts had been pressed in for a fit check, and then to do all the filing, cleaning and priming to ready the part for use.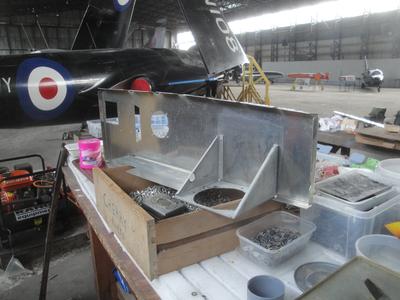 This will eventually contain some controls near the pilot's left elbow
Photo: copyright Dale Amon, All Rights Reserved
The hanger is itself history. During WWII Shorts built Stirling Bombers here. The Stirling was a big airplane and stood high on its long undercarriage. If you have ever seen a picture of one you will never forget it.
The Wildcat is not the only airframe in this ancient hanger. There is also a Blackburn Buccaneer, a Shorts Tucano, a number of classic helicopters, a Shorts 330, and a few other airframes that are only to be found here. There is even a recently retired RAF Canberra photo recon plane due to arrive any month now.
My second favorite after the Wildcat however is the Suez War veteran Sea Hawk. Even just sitting there it seems to be telling me "I want to fly!!!" The office is quite comfortable but I could not convince them to move all those other aeroplanes out of the way and let me take it for a spin. Well, there is one other problem: someone built a large building in the middle of where the WWII runway used to be. Oh well…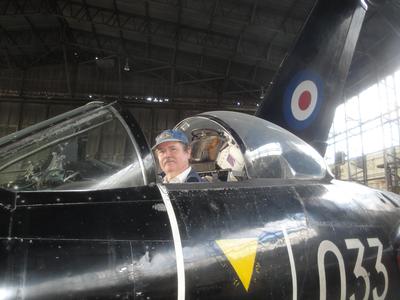 Did you say catapult one or two?
Photo: copyright Dale Amon, All Rights Reserved