Every now and again I have one of those "It's amazing what you can buy nowadays" moments, when I am confronted with some aspect of the modern world that is working really well. As parts of it most definitely are, even as other aspects of human civilisation remain shambolic or worse. So it was yesterday, when I saw and snapped this, through a rather grubby and blurry shop window, just across from the ticket barriers at Piccadilly tube station: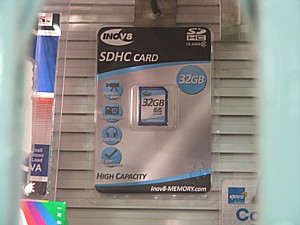 I know. 32 gigabyte SD cards have been around for months, and for many were no big deal in the first place. I actually seem to recall seeing a 64gb SD card yesterday also, somewhere in Tottenham Court Road, but for some reason this didn't amaze me so much, probably because the price was so huge that I wasn't so gobsmacked by it. It was the fact that the above 32gb SD card wasn't just in existence, somewhere foreign and only reachable via the internet, but in existence right there in a pokey little shop window like this one that hit home to me. This was a 32gb SD card, and it was no big deal. That was why, for me, it is such a big deal. For me, all this is amazing. I can remember having a hard disc in my PC that was only 30 megabytes. SD cards matter to me a lot, because I like to take photos, such as the one above, and such as the one I posted at my personal blog yesterday, of a new tower at the Elephant and Castle to which the finishing touches are even now being put, or the snaps I took the day before yesterday of the Shard, another implausibly tall new London building, which is still going ahead now despite everything. Or just of strange things that I see around town.
Not so long ago, when out on one of my photographic rambles around London, I had to keep changing the SD cards in my camera, because they kept running out of space. Then came vast 2gb SD cards, vast when I first got one, and the changes became rarer. Now I have two 8gb SD cards, one of which comfortably lasted for an entire recent break in Spain which lasted for the best part of a week if you include all the travelling. Those 8gb SD cards can each store over two thousand of my snaps. And now, presumably for not a lot more than I paid for my 8gb SD cards, or before that for my 2gb SD cards, you can get a 32gb SD card. Amazing.
The point about quantitative leaps of this kind is that there comes a point when quantity becomes quality. 8gb SD cards meant that I no longer had to worry about running out of space, no matter how many snaps I snap. For me, taking still photos, 32gb would be overkill, unless I decide to investigate the world of RAW.
But imagine how much of a difference these cards are now making to those who like to make movies, as they roam about the world. Time was, I presume, and not so long ago, when taking enough footage – with enough takes, done often enough to be good enough – to make a reasonably good home-movie-type movie, as opposed to the sort of home movie I am used to, was just out of the question. But now …
In earlier times, what about that moment – which seemed only to be a moment, looking back on it – when fiddling about with photos on one's home computer went from ridiculously time-consuming and cumbersome and hard-disc eating, to just plain easy? All because of quantitative things like speed and hard disc space. Then as now, idiot techy columnists asked: "Do we really need …?" – this much hard disc space, this much memory, this much space on a card, this much speed, this … much? Well, maybe "we" didn't need such things then, but we soon found things to do with all this this-much-ness that meant that we did need it. Want it, anyway.
The point of this posting is not just to celebrate the seemingly endless creativity of capitalism, although I trust it does this. It is also to make a comparison between different ways of doing things. During the Cold War, it was possible to make starkly geographical comparisons between entire economic systems, between economic philosophies even, between moderately underanged, and totally deranged, in two instances (Germany and Korea) even between separated bits of the same countries. Although the catastrophe that is North Korea still staggers on, it is now harder to make such comparisons. But it is still possible. It is still possible to look at the rules governing how SD cards are made, and at the rules governing the management of state schools and NHS hospitals, to the extreme advantage of the former. Imagine a world in which healthcare was getting better as fast as digital photo storage space is now growing.
Strangely, I was yesterday looking for SD cards that were only 2gb sized. This is because I have a digital radio that records onto SD cards but only onto the primitive sort which are 2gb in size, maximum, everything bigger being "SDHC". See the picture above. And it turns out that 2gb SD cards have actually got more expensive than when I last looked. This particular variant of the SD format has now arrived at the past-it-but-still-wanted-by-a-few-weirdos category. Supply and demand sometimes plays funny tricks.