These guys crack me up. Geert Wilders finally makes it to Britain after a court overturned the disgraceful ban, and he delivers his anti-Islam message in Westminster… and how do his enemies show that Wilders is wrong to characterise them as a threat to western civilisation?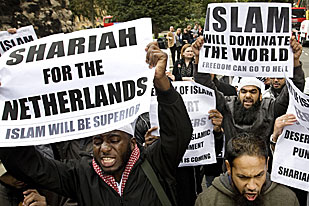 In one TV interview I saw, one of the Muslim protesters said "he should just come out and talk to us and get our point of view"… very reasonable… whereupon a second bearded paragon of the Religion of Peace interjected words to the effect "If he did not have all those police around him, we'd show him what we do to enemies of Islam" (if anyone spots an on-line video of this exchange, please post it in the comments).
I just cannot avoid smiling at these guys who are always so keen to give a televised performance of "Crazed Muslim Lunatics" straight out of Central Casting any time someone sticks a microphone in their face.
Although I disagree with Wilders' ideas regarding banning the Koran, is it not remarkable how when he says profoundly reasonable things, defending the rights of Jews and Gays no less to be free from the threats promised by a great many Islamic commentators, somehow almost all the mainstream media tag him as "far right".