Because of my interests and network of friends in the business, things of interest often cross my virtual (and real) desk. Sometimes they are surprising. This time my jaw is still laying under the desk and I am applying a healthy dose of skepticism until I really, really am sure these are real and not exceedingly good fakes. I do not think they are and I have examined them closely. The first is the F/A-37, reportedly capable of Mach 3.5 supercruise and top speed in excess of Mach 4. It is shown on board the USN George Washington for catapult fit tests according to the source.
The only thing I can say about this one is it has some familiar resemblance to some test articles I am aware of, and it looks a bit like some things which have been described coming out of Groom Lake. Other than that, it has me absolutely flat-footed… if it is real.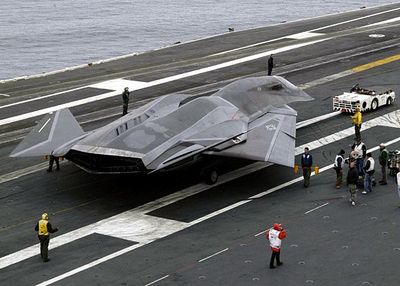 F/A-37 prototype on USN George Washington.
Photo: original source unknown (Now pinned down to the making of the movie "Stealth")
The second aircraft caught me only a little less flat footed. I am well aware of the base design of the aircraft but to my knowledge it was just a concept design, something that might or might not be built 20 years from now. Given the efficiency and strength and capacity (larger than the Airbus 280) this has got to have Airbus executives reaching for the Maalox… if it is real.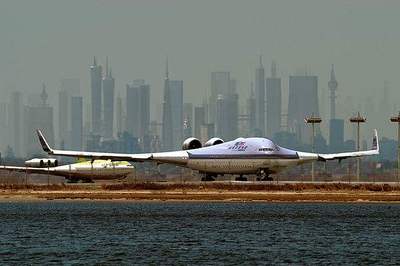 Boeing 797 Blended Wing/Body aircraft.
Photo: original source unknown. (Now pinned down as photoshopped.)
Given that these images are now slithering their way around the mailboxes of the cognoscenti, I am certain we will be hearing more about them one way or the other. I think this is on the up and up, but I am just not yet sure of it.
So, any comments on what has this Samizdata Editor in a state of flabbergasted shock?