After working over fourteen hours today, with perhaps three hours of sleep the night before, my boss on the DC consulting job took me out for dinner at a diner, nearly the only restaurant still open in Bethesda at that hour. After dinner he asked for a Banana Cream Pie, his usual self-treat after this sort of marathon work day. The night chef told us it is no longer available. Montgomery County outlawed Trans-Fats and such pies are now contraband. For a moment I considered asking if there was a back room where one could gorge on smuggled pies, but thought better of it. Such secret places would be only for locals and those known to the Mafia, not for transient gypsy engineers such as myself.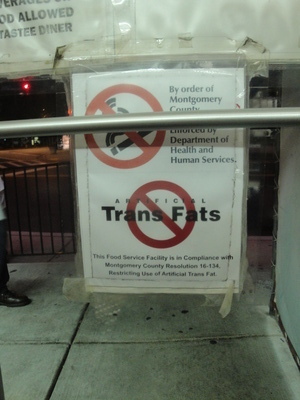 The Morons of Montgomery.
Photo: copyright Dale Amon, All Rights Reserved
Maybe the time has come to bring back The Living Theater: "I am not allowed to eat Banana Cream Pies!!!" they could exclaim dramatically whilst standing about naked on stage. Perhaps a Three Stooges level cream pie fight is called for. Yeah, that's the ticket! Residents of Montgomery County Arise! You have nothing to loose but your cream pies! Give your politicians the respect they have earned and deliver them their just deserts!
I hereby declare 'The Cream Pie Revolution', a proper descendant of 'The Marshmallow Revolution' (1) tradition of my youth. Yes, back to those days of yore when we hurled soft confections (probably illegal in Montgomery County) at the Pittsburgh Federal Building and Senator Strom Thurmound!
The concept of politicians with whipped cream covered visages appeals to the inner Yippee of my street theatre past. Of course, should such a terrible thing actually be done by some miscreants, it is definitely not my idea… but please send photos.
(1) 'The Marshmallow Revolution' was a street theatrical realization of a song from the 1970 Carnegie Mellon University Scotch and Soda Company BMI award winning original musical "Something Personal", written by David Spangler and Mark Pirolo, with some input from Stephen Schwartz (yes, that one).