XCOR's press conference will start in LA in a couple hours and I have just found that the embargo on the Lynx Spaceplane press release has been lifted. For those few lucky ones who happened to catch my earlier article and then wondered why it vanished, it was due to a communications SNAFU. The person who sent me the info forgot to state it was embargoed so I blogged it. An hour later I received a frantic phone call whilst I was watching a DVD and pulled it as soon as he explained the mistake.
In any case, there is now a lot more information about the Lynx showing up. Rand Simberg, one of my business partners, will be there and no doubt live blogging it.
Disclosures: I might add that I spent several months doing software support for the aerodynamics guy. 🙂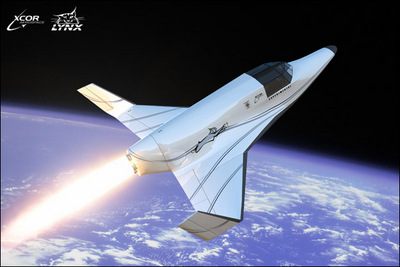 The Lynx will fly within two years with Astronaut Searfoss at the controls.
Image: With thanks to XCOR.