The swing voters are on the ends, not in the middle. Take a good look at this chart.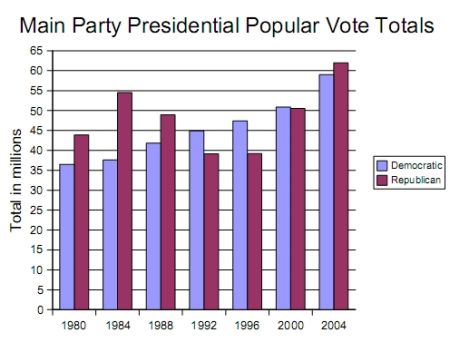 Notice that the Democratic voter turnout is a steady trend. Not Ross Perot or Ralph Nader appears to have affected the Democratic base turnout. It looks quite reasonable to interpret that third party candidates do not pick off Democratic voters, but rather people who otherwise would not have voted or would have voted Republican.
On the other hand, look at the Republican voter turnout. During a time when the Democrats went from 37.4 to 44.9 million in a trend that projects in both directions, the Republicans went from 54.5 to 39.1 million. The explanation is a simple one. The Republican party does not have a 'base'. If they do, it is so small that it is below the radar.
Put another way, Democrats vote for their party come what may. Republicans vote, or very importantly stay home, based on the candidates and their principles, not party loyalty. This comment thread on Rachel Lucas with well over 400 mostly thoughtful comments shows the depth of the division. Even here on Samizdata there are commenters who say things like:
… "true" conservatives piss me off. And if there is one thing I can count on, it's that McCain will knee them in the nuts when needed. Who the hell do these self righteous ass hats think they are?
My answer? We are individuals. We vote with our mind, not 'our' party. And you will not win without us.
I said some time back that the only Republican candidate capable of winning the big race was Thompson. Obviously, I did not make that prediction based on poll numbers naming him as their first choice. I made that prediction based on the poll numbers that did not give him an absolute negative. Well, that and the obvious fact that the swing voters are on the ends, not the middle. Had he been the Republican candidate, a popular majority would almost certainly have found him to be the preferred candidate. No other candidate can avoid the rejection of substantial numbers of voters that the RNC claims are Republicans. Because Republican strategists are forgetting something. Many of 'their' voters do not belong to the Republican party. We belong to ourselves. And that is how we vote. If Fred is still on the ballot in your state, it is not too late to vote that way.